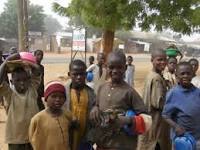 By Longtong Ibrahim
Jos (Nigeria) – At least 25 Almajiri boys and their teacher on Monday narrowly escaped death by accident around the Hill station roundabout, in Jos, North Central Nigeria.
Eyewitness says the incident occurred at about 12.30 after noon when the Almajiri's were traveling to Bauchi from Nasarawa state in an18 seaters bus.
According to a newspaper Vendor who sell by the roundabout, the accident was as a result of over speeding.
He said, the driver lost control while he was approaching the roundabout, "hit the roundabout and somersaulted, leading to many of the children sustaining various degrees of injuries."
In a state of confusion, the qu'ranic teacher who the children were under his custody (sustained minor injuries) explained that they "were heading to Bauchi state, our homeland for the farming season, we are coming from Nasarawa State where we went for islamic studies."
Sympathisers and Officers of the Federal Road Safety Corps were at the scene of the accident, assisting the Victims to the hospital.
The Victims were taken to Sauki Hospital, a hospital close to the scene, where they were attended to.
Most of the children were underaged, between the ages of 8 and 15 years – there was no record of death, but some of the victims were taken to the emergency ward.
However, as at the time of filing in this report, efforts to contact the Jama'atul Nasrul Islam and members of the Islamic Ulama to ascertain the authenticity of the group and their mission of traveling proved abortive.