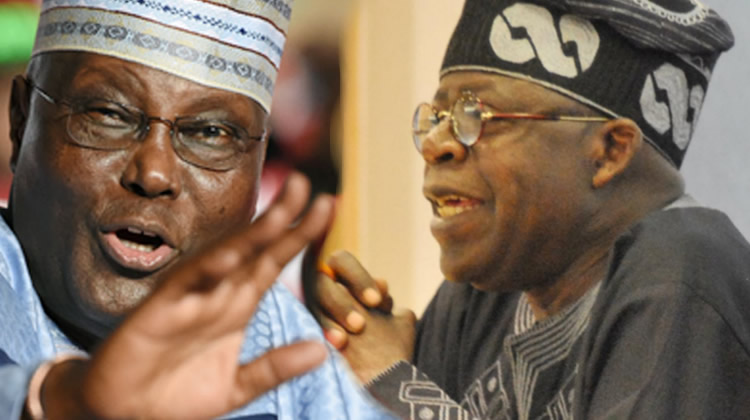 The Presidential candidate of the Peoples Democratic Party (PDP), Atiku Abubakar, has called on Nigerians not to elect Bola Tinubu of the All Progressives Congress (APC), saying doing so will represent a transition from frying pan to fire.
In a statement by his Special Assistant on Public Communications Mr. Phrank Shaibu, the PDP candidate, said Nigerians must not be deceived by Tinubu's message of renewed hope as it is "hopelessness in disguise".
Shaibu stated, "It is one week to the election, and expectedly, campaigns have reached fever pitch. But amid the excitement and tension, voters must guard their hearts jealously as the ruling APC will try to use every subterfuge and stratagem in its manual to deceive them once more. These last days are similar to the end time predicted in the Holy books.
"Nigerians must not let themselves to be deceived by this corn-man selling renewed hopelessness disguised as renewed hope. Your hope will be stolen from you if he is allowed to govern Nigeria. That indeed will be a state of hopelessness – hell on earth, frying pan to fire."
Shaibu said as part of the grand deception, Tinubu, who started his campaign mid last year with a promise to continue with President Muhammadu Buhari's "impeccable legacy", has in the last three weeks been promising to reverse them.
He asked Tinubu to make up his mind on whether he was running on Buhari's legacy or running against it so as not to deceive innocent voters.
Shaibu added, "Tinubu says the petrol scarcity and the naira shortage are aimed at scuttling his ambition. Later, he and his acolytes said they were only voicing out against the policy out of sheer concern for the masses. These are people who never muttered a word when students spent 10 months at home in 2020 and eight months at home in 2022 due to unprecedented university lecturers' strike.
"These are people that never criticised the President at the height of the insecurity when schoolchildren were being abducted almost on a daily basis and when the naira witnessed a free fall that led to a sharp increase in the price of goods.
"Someone needs to tell Tinubu and his band of APC governors to please give up this irritating ostentatious performance of moral propriety. They are not angry about the naira redesign because they love the masses. They are only angry that their plan to unleash bullion vans on poor Nigerians has been thwarted."
Shaibu said should Tinubu become the president of Nigeria, he will turn the country into his personal fiefdom and a one party state by muzzling the opposition.
He added that Tinubu would also turn the National Assembly into his foot stool and orchestrate the fall of the 4th Republic.
Shaibu added, "Tinubu has turned Lagos State into his personal fiefdom by arrogating all powers to himself so much so that even the current Governor, Babajide Sanwo-Olu, publicly refers to him as 'my principal', clear evidence that Tinubu is far above the constitutionally recognised authority in the state.
Shaibu said Tinubu's actions had shown that he had no respect for President Buhari or his office.
He said that in 2018, President Buhari and some northern governors personally appealed to Tinubu to let Governor Akinwunmi Ambode contest a second term, but Tinubu ignored their entreaties thereby publicly embarrassing the President.
Shaibu added, "In 2018, Tinubu orchestrated the removal of respected former Edo State Governor John Oyegun and ensured that his servile lackey, Adams Oshiomhole, emerged as the national chairman of the APC. Through Oshiomhole, he undermined several governors in their states and went on to suspend them including Ibikunle Amosun of Ogun State who described Tinubu as 'Capo Di Tutti', a term of Italian origin often used to describe the overall boss within a mafia family or group.
"After undermining Amosun, Tinubu ensured that Dapo Abiodun emerged governor. He would later scornfully describe Governor Abiodun as 'eleyi', meaning 'this thing' just because the governor decided to back the more charismatic Vice-President Yemi Osinbajo for President.
"In Lagos State, Tinubu publicly ridiculed Governor Akinwunmi Ambode, treating him like a houseboy. He asked Ambode to drop his ambition for a second term despite his many achievements in the state. When northern governors and even President Buhari pleaded with Tinubu to let the young man continue in office, Tinubu rejected their entreaties, embarrassing the president in the process.
"On the day of the APC primary, those who planned on voting for Ambode were prevented from doing so as seen in many viral videos. In fact, Clement Ebri, who had been detailed to supervise the exercise, clearly stated that there was no primary in Lagos until he was forced to recant.
"Tinubu's overbearing nature put him on a collision course with many governors, notably Governor Nasir el-Rufai of Kaduna State, who even offered to help the people of Lagos State to put an end to godfatherism. Today, el-Rufai has become Tinubu's man Friday all because he has been promised the position of Chief of Staff. This is not the kind of man that should lead Nigeria."