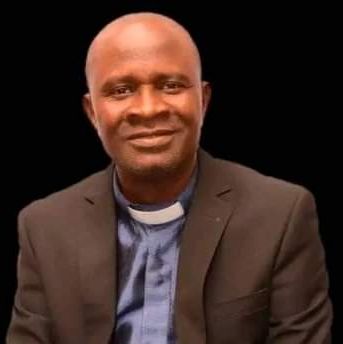 By Joseph Edegbo
Recounting his success at the Zaria Zone of the Christian Evangelical Fellowship of Nigeria, (CEFN) where he spent 4 years and 4 months, Rev. Emmanuel Abuh says his joy in the service of the Lord in the zone has no bound.
It was against this background, he quotes Jude 24:25 which says "Now unto Him that is able to keep you from falling, and to present you faultless before the presence of his glory with exceeding joy".
Rev. Abuh was speaking on Sunday 12th February 2023 during his Sendforth Service at the Zonal Headquarters Church, Kakuri, Kaduna Northwest Nigeria, following his transfer to Kano.
Rev. and Mrs Abuh flanked by two of their children
Rev. Abuh told the congregation that he and his family owe their unalloyed gratitude to the entire members of the church as well as Zaria Zone in general for their unreserved support and cooperation which was the bases for their successful stewardship. "Indeed, we are proud of you and happy to have known and served among you. Despite so many challenges that came our ways in the process of service, you were there for us", he said.
Responding to members who felt taken aback at the transfer, Rev. Abuh reminded them that, "The work of the Ministry is like military engagement, that all you have to do, is to obey the last order. If you are asked to go or come, you obediently carry out the order. My dear brothers and sisters, I have an order to go, and cannot do otherwise, I earnestly covet your prayers".AFRICA PRIME NEWS reports that the Sendforth was full of encomiums from members of the congregation who described Rev. Abuh as Pastor of the pastors whose humility, human management and commitment in the service of the Lord, are incomparable.
Earlier in a sermon entitled "Prophetic Rewards", his successor, Rev. Stephen Okadonye spoke on the principles of giving which is part of Kingdom investments, emphasizing that One way in doing so, is by caring for pastors who stand between men and God praying at both day and night.
Rev. Okadonye also reminded the congregation that no amount of reward could be quantified with the roles played by pastors in their lives.
He criticized some members of the Fellowship who recognized pastors at other ministries above theirs, due to ignorance that those in the CEFN preach undiluted words of God.
He therefore tasks them never to neglect their pastors, but to care for them. "There is time for prophets to work and time to receive rewards", drawing the attention of the congregation to Rev. Abuh to receive his'.
God is pleased when One meets the needs of pastors, Okadonye explained.
He described the CEFN as One family reminding them that despite the transfer, Rev. Abuh still remain their pastor as well as others, wherever they are.
The Sendforth Service drew representatives from various churches and Christian organizations, including Kogi East Christian Elders Forum, Landmark International Baptist Chapel and The Bible Society of Nigeria.