EOS Data Analytics (EOSDA) is a global provider of AI-powered satellite imagery analytics, based in Ukraine. The company has been active in providing satellite data for agriculture, forestry, mining, and oil & gas, among others. In this interview piece, EOSDA Director of Strategic Partnerships, Brijesh Thoppil, responds to questions from Iliya Kure on the company's products, partnership plans, and advantages of using satellite-driven tech by African farmers.
APN: When was the company established, and where are you based?
EOSDA: EOS Data Analytics, a global provider of AI-powered satellite imagery analytics, was founded in 2015. The company operates worldwide, collaborating with governmental, commercial, and scientific organizations. The scope of the company's technologies embraces Earth observation solutions for smart decision-making in 22 industries, including agriculture, mining, oil, and military. With this, EOSDA reveals the emerging challenges of the planet beforehand.
EOSDA's mission is to unite people of the same mindset, share access to new knowledge, stimulate progress, and preserve the pure potentiality of the Earth for the benefit of humankind.
I'm currently based in Kyiv, Ukraine, where we have one of our development centers and some of our scientists, developers, and big data experts. Ukraine's knowledge and tech talent pool has been instrumental in increasing our capabilities and bringing profitability to various industries.
APN: What services or products do you provide and how important/useful are they?
EOSDA: EOSDA's key product for agriculture is EOS Crop Monitoring, an online satellite-powered field monitoring service that collects all the essential information about the state of crops. The platform encompasses miscellaneous data about vegetation health, weather conditions, soil moisture, crop rotation, field activities, harvesting, and much more.
Close-to-real-time crop monitoring enables farmers to identify in good time issues threatening crops — weed spread, pest attacks, cold spells, heat stress, insufficient irrigation, etc. — and take necessary action. Timely detection of factors impacting crop growth streamlines farm operations, accelerates decision-making, saves time and money, and helps improve yields.
Another advantage is that satellite images can be used to quickly cover a large area.
In July 2021, EOSDA launched EOS Forest Monitoring, a satellite-driven online platform for forest management. By leveraging satellite imagery, this tool assists landowners, research institutions, logging companies, and other stakeholders in monitoring forest stands remotely, spotting illegal logging, and getting notified about any changes and risks.
LandViewer is also a well-known EOSDA product that enables on-the-fly searching, visualizing, and processing of data by applying more than ten indices available on the platform and extracting insights from satellite data to tackle business tasks and challenges. The users can find images of any AOI (area of interest) across the globe and process them — all in one tool. A processed image can be easily downloaded whenever needed, saving time and storage space on the device. In addition, images of the same area from multiple satellites received on different days, or even at different times of the day, make it possible to track changes.

APN: Who are your partners and the beneficiaries of your products in Africa?
EOSDA: We have 37,000+ users in Africa who utilize our solutions. They are smallholding and large-scale farmers, agri-coops, technical consultancies, and Telecom service providers.
As we believe in the power of partnerships, we are focused on developing a strong regional partners network in the African continent. We define our potential partners considering their local market knowledge and contacts with the large decision-makers.
Let me tell you briefly about our partners.
Agroxchange Technology is one of our strategic partners in Africa. The cooperation between us started in June 2020 with developing a customized white label crop monitoring solution and license for monitoring 100,000 hectares. Within a year, the project expanded across Nigeria and reached 400,000 hectares being monitored by May 2021. Agroxchange uses the specially developed EOSDA satellite analytics platform to collect and distribute insightful data to financial institutions in Nigeria and help farmers control crops condition, quickly identify problems, and make better-informed decisions. During the second half of 2021, Agroxchange was also appointed as an exclusive EOSDA partner for financial institutions, banks, governmental agencies, and intermediaries across Nigeria.
Complete Farmer is another partnership reference from Western Africa. They are known as an agritech company specializing in improving supply chain solutions in Ghana by using data and technology. Complete Farmer relies on our EOSDA Crop Monitoring platform to receive regular updates on farms and use the information to set protocols allowing local growers to make tactical farm management decisions about fertilizer application, water supply, and crop yield. We are in the second year of our partnership, working on the opportunities to expand the partnership network to different African countries.
Our recent foray into the telecom sector has earned us a valuable partnership with TelOne, the largest telecom organization in Zimbabwe. Starting our partnership journey with a reseller model, we provide TelOne with professional-level access to the EOS Crop Monitoring platform. The ultimate business model will be to roll out a customized platform that suits the needs of local farmers, agricultural banks, and agri-cooperatives.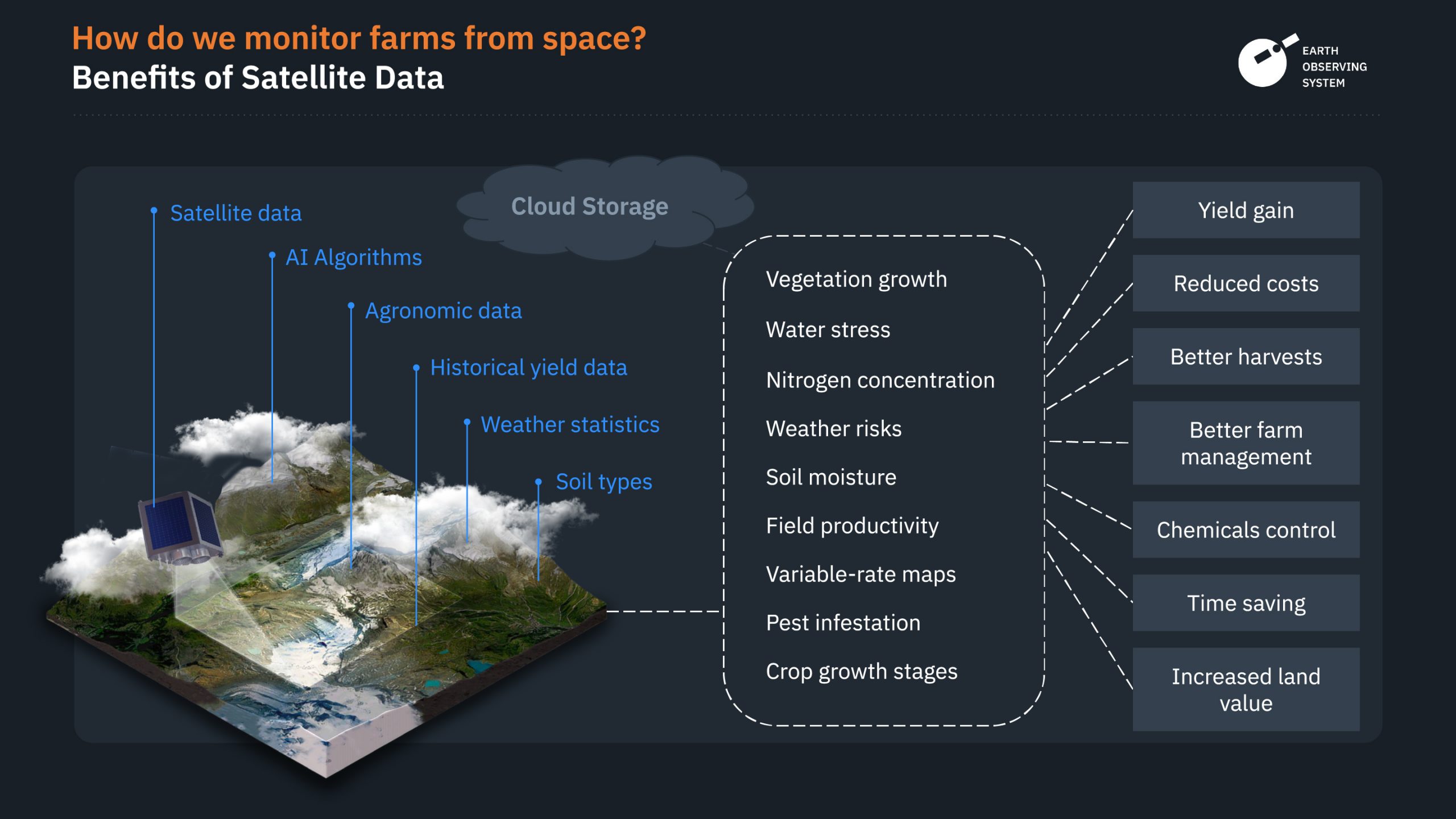 APN: What benefit have users of your products in Africa reaped since the adoption of your services and/or products?
EOSDA: Technology can support better crop, fertilizer, and pesticide selection. It also improves field and water management, provides access to weather data, and connects farmers to sources of credit. In addition, simply giving farmers information about crop prices in different markets has increased their bargaining power.
Since the start of collaboration with EOSDA in 2020, Agroxchange has covered 400,000 hectares by monitoring while meeting unique customer needs with the EOS Crop Monitoring white label solution.
Complete Farmer benefits the most from utilizing vegetation indices that help identify the areas for fertilizers and weedicides application and evaluate soil moisture.
APN: How will your products and services assist subsistence and low-income farmers in Africa? Can they afford your services/products?
EOSDA: Agriculture is one of the last industries to undergo digital transformation. However, it is expected to bring bigger changes than anything we've seen before. The aim of digital farming is to increase food production using less resources, and so is the purpose of our EOS Crop Monitoring solution.
We have identified that establishing connections with regional value-added resellers and stakeholders is the fastest way to reach more low-income farmers in Africa. Through proper channels and links to regional investment funds, our partners are able to bring technological benefits to farmers, which not only enhances farm productivity but also improves market transparency and minimizes the digital divide between large farm owners and smallholding farmers.
APN: How much have you invested in Africa since the commencement of your business to date?
EOSDA: With the development perspective in mind, we are hosting joint open-door webinars with our partners primarily to educate local farmers on how they may benefit from satellite technology. Recent webinars that we have conducted with our partners have brought us more potential partnership opportunities.
I can say we are successful in our contribution to satellite-based solutions introduced to African farmers! In 2021, we had up to 16,000 new users of the EOSDA services in African countries.
APN: Any additional information you want Africans to know about your company or product?
EOSDA: We're currently working on a project we believe will significantly benefit all agriculture-related businesses. EOS Data Analytics plans to launch seven optical satellites under the constellation EOS SAT into a low Earth orbit by 2025, and the start of the first satellite is planned for 2022.
The pivotal goal of the EOS SAT project is to embrace the whole data production process, from data collection to analysis and analytics delivery to our customers. The constellation is mainly designed for farm monitoring which makes EOSDA the first company out of those utilizing remote sensing in their products to develop agro-focused satellites. The improved satellite technology will substantially increase the data accuracy prompting more agricultural companies to shift towards precision farming practices.
About the respondent
Brijesh Thoppil is the Director of Strategic Partnerships at EOS Data Analytics. He joined EOS Data Analytics in April 2021. He is in charge of the management, growth, and development of the company's strategic partnerships, both existing and new. Currently, Brijesh is responsible for strengthening the approach to partnership development by creating and implementing an effective strategy to expand EOSDA products across targeted verticals. He also coordinates training programs and communication sessions with EOSDA partners about solutions updates.