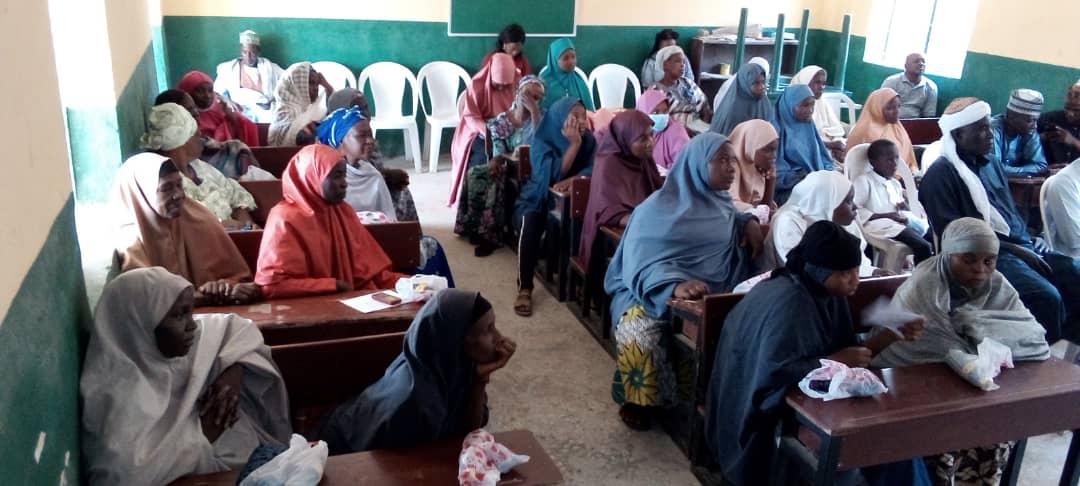 By Joseph Edegbo –
The Africa Media Development Foundation has held Town Hall meetings in Kajuru and Kaduna North Local Government Areas of Kaduna State as part of its awareness campaign on Violence Against Persons Prohibition, VAPP law and Violence Against Women and Girls under the Rise Up Project.
The town hall meetings which were held on Thursday and Saturday, had in attendance, security agencies, local government officials, religious, traditional and opinion leaders as well as other members of the community.
At Kajuru, the Council Chairman, Mr Ibrahim Gajere who was represented by Councilor for Admin and Finance, Jonathan Bala appreciated AMDF for the awareness campaign and called on the community to shun all forms of violence against women, girls, children and Persons With Disabilities
On his part, the District Head of Kufana, Chief Titus Dauda disclosed that his Council has abolished certain harmful traditional practices as a result of the awareness campaign mounted by the Rise Up Project in his domain.
He appreciated the Rise Up Project for the awareness created among his people and assured the team of the sustainability of the project.
And in Kaduna North LGA, the Chairperson, Kaduna State Observatory Steering Committee On Violence Against Women and Girls, Barr Amina Audi who gave an overview of the VAPP law, informed the gathering that ignorance of the law is not an excuse in the court of law.
Also Speaking, the Divisional Police Officer for Sabon Gari, CSP A. Yusuf assured that the police will continue to work with the people to prevent and reduce violence against women and girls.
He however stressed the need for members of the community to preserve evidence as the police can not prosecute without evidence.
In a remark, an opinion Leader, Professor Ibrahim Abdullahi called on parents to raise up their children in a Godly manner.
Speaking on Islamic perspective on Gender Based Violence, Imam Shafiu and Babasidi Kabir from Kajuru and Kaduna North respectively, said Islam promotes and protects the rights of women and girls saying it does not condone violence.
On Christian perspective, both Rev Enoch Kaura and Pastor Adeniran emphasized that Christianity does not support violence in any form, saying Christ is the Prince of peace.
The Rise Fellow and Project Manager, Mr Benjamin Maigari who gave an overview of the project at the meetings, enjoined all the participants to go and be ambassadors in their various communities to inform others what they have learnt.
He appreciated the security agencies, religious and traditional leaders, Chairmen of Kajuru and Kaduna North Local Government Councils,
, COMBAV team and other members of the two communities for their support since the commencement of the project over 8 months ago.
The Manager informed them that the project would soon be over and tasked the communities not to relent in creating awareness and sensitization.