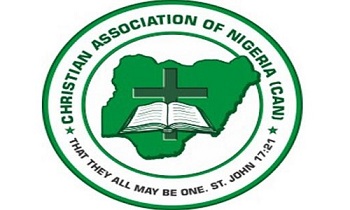 By Iliya Kure
Christian Association of Nigeria (CAN) has dissociated itself from rumors making round that it has ordered youths in Billiri Local Government Area of Gombe State, to wear t-shirt with inscription of Dr. Musa Idris Maiyamba, to mark the 2022 Easter celebrations.
Dr. Maiyamba won the election by Tangale kingmakers to serve as Mai Tangle (Tangale paramount ruler), but was disenfranchised by Governor Inuwa Yahaya of Gombe state, over his preferred candidate, Mal. Danladi Maishanu.
The people have refused to recognise Mal Maishanu as their ruler and have taken the matter to court.
Mal  Maishanu has also not relocated to Billiri, seat of the throne, over a year since he was made ruler by the Governor – he had been staying in Gombe, the state headquarters.
Reacting to a social media post on the rumour, Youth Leader of CAN, Billiri LGA, Pastor Shadrach Bulus told AFRICA PRIME NEWS that there was no truth in such an order.
"We did not ask anyone to wear any t-shirt, or any type of branded cloth to celebrate the Easter.
"The issue of the Mai Tangle is before the courts, and I know, in due course, justice will be served.
He expressed optimism that the 2022 Easter will be peaceful in Tangale land.
"I am sure it is being spread by enemies of Tangale. They did the same prior to 2021 Christmas, when they spread rumours that those organizing Dog Festival were out to cause trouble in the land. But it came and no trouble was recorded anywhere in relation to the festival.
He said already the land has seen a large number of its sons and daughters who have arrived home for the 2022 Easter celebrations.
Pastor Bulus emphasised that CAN did not organize any rally, other than the Annual Easter Rally, where Tangale Christians go to the hills and pray early hours of Easter Monday, then move in procession to key locations in Billiri and other Tangale towns, to preach the Gospel of Jesus Christ.
"We remain resolute and we'll continue to serve God in our land," he said.
Rumours have spread on the matter and Tangale people have been reacting on social media on the said dress code during Easter.
One of the reactions reads:
"Good evening. Available information revealed that CAN leadership Billiri LGA/ Youths want to celebrate the Easter period wearing T-shirts with inscription of Dr Musa, the 26th Mai Tangle on it. The court case is still on as judgement has not been delivered. Let's reach out to them not to take laws into their hands by wearing the T- shirts during the festive period. Thanks and be blessed richly."