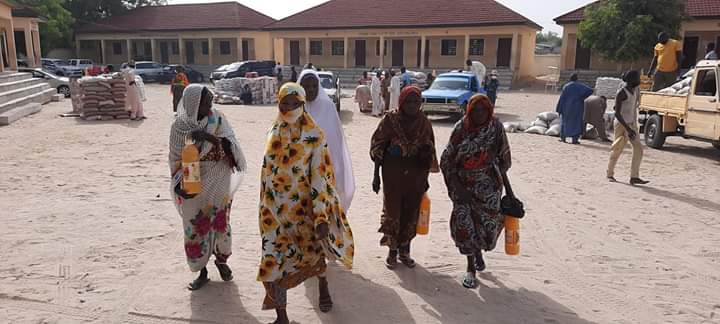 Not fewer than 4,000 households benefited from the distribution of palliatives approved by Governor Babagana Umara Zulum of Borno State, North East Nigeria to cushion the effect of the lockdown order in the state.
24,000 households were reached since the excersice was flagged up by Governor Zulum on 25th April, 2020, at the Muna Custom House in Jere Local Government Area.
Friday's excersice, which took place in Limanti and Gamboru wards, were coordinated by the 16 members committee led by the Hon. Commissioner of Agriculture, Engr. Bukar Talba.
Each beneficiary received one bag of rice, one bag of millet grain, one carton of pasta, cooking oil and some condiments.
Speaking to newsmen after the distribution, Engr. Talba explained that the excersice targets 100,000 households, comprising of IDPs and the host community.
He added, "we have so far delivered food items to 24,000 households, we are determined to reach 60,000 vulnerable households within the host community."
The Commissioner, however, disputed claims that the beneficiaries were mostly members of the ruling APC. He further explained that there is a criteria for the selection of the beneficiaries which was independently done by the community leaders.
"We have a laid down criteria for the distribution, 2,000 households we selected in each ward. Of this, 50% beneficiaries are vulnerables members of the community, 20% widows, 20% aged and 10% people living with disabilities selected. We have entrusted the community leaders to do the selection process, they know their people better.", Engr. Talba said.