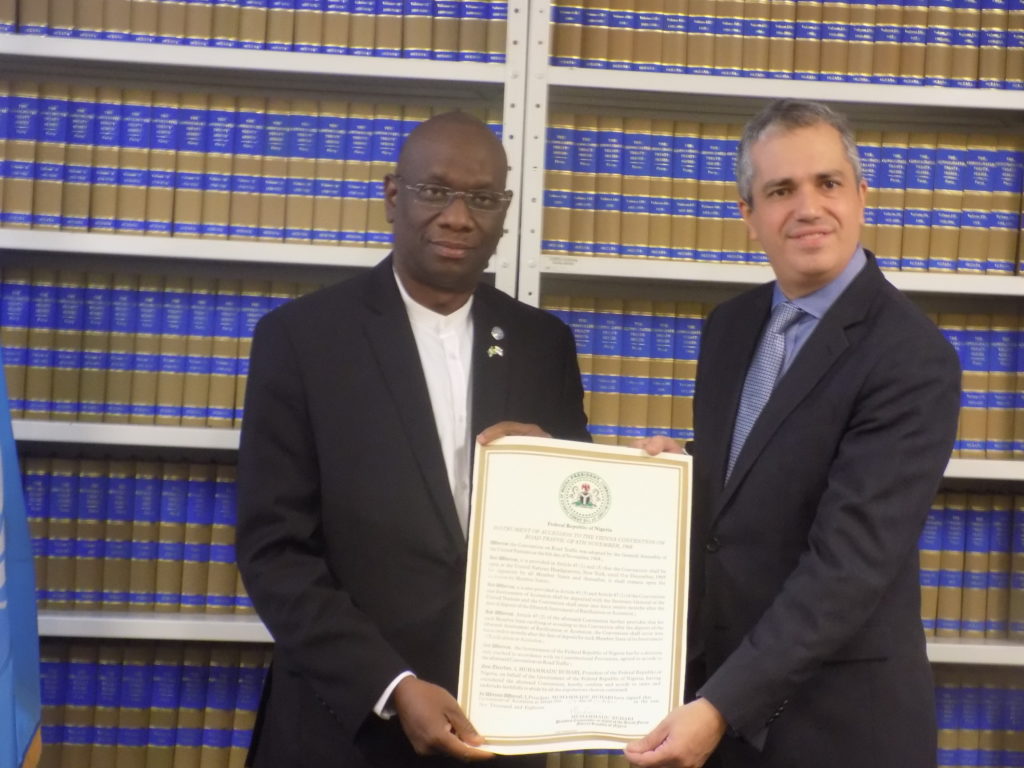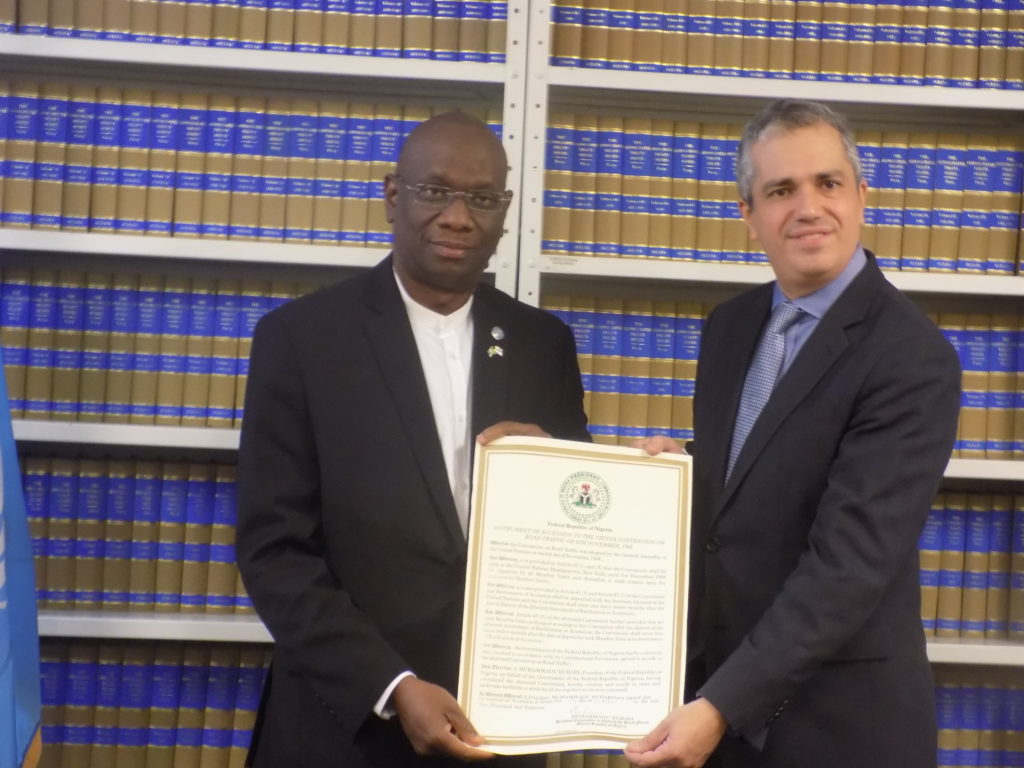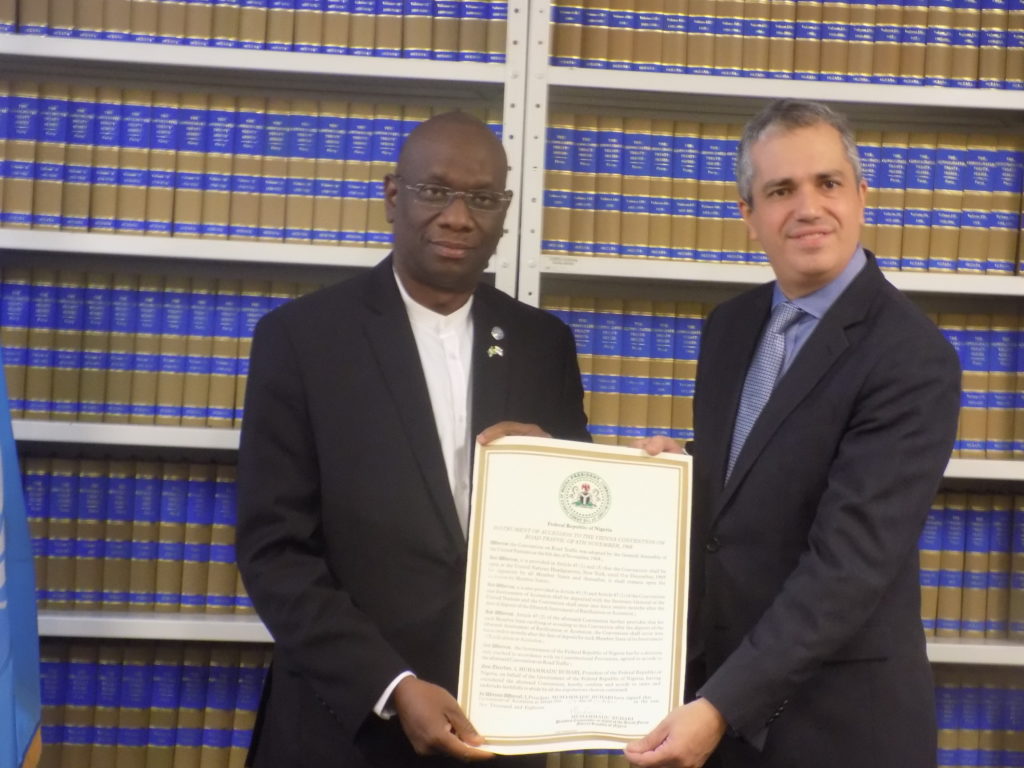 The UN says Nigeria is the 78th country to assent to the 'Vienna Convention on Road Signs and Signals' as the country presented its endorsement on Thursday.
Chief of the Treaty Section of the UN, Mr Santiago Villalpando, stated this at the presentation of the Instrument of Accession to the Vienna Convention by the Corps Marshal of Nigeria's Federal Road Safety Corps, Dr Boboye Oyeyemi.
The News Agency of Nigeria (NAN) reports that the Convention is a multilateral treaty designed to increase road safety and aid international road traffic by standardising the signing system for road traffic in use internationally.
Nigeria is also among the few countries in Africa to have assented to the Vienna Convention adopted by the UN General Assembly on Nov. 8, 1968, and entered into force on May 21, 1977.
NAN also reports that by presenting its assent to the UN, Nigeria has deposited its instruments of ratification, acceptance, approval or accession with the depository.
Villalpando, at the historic event in New York, commended Nigeria for taking the bold decision and for its commitment to implementing the Vienna Convention on Road Signs and Signals.
Speaking with NAN after the presentation, Oyeyemi described it as a great achievement for President Muhammadu Buhari, who ensured that Nigeria lived up to its commitment to the UN and other international obligations.
Oyeyemi said the UN Secretary-General's Special Envoy for Road Safety, Jean Todt, visited Nigeria in 2017 and observed that the country had not assented to the relevant UN Transport Conventions and Agreements as well as the implementation of same.
These Conventions are the Geneva Convention on Road Traffic of 1949, Vienna Convention on Road Signs and Signals of 1968, and the Convention concerning Customs Facilities for Touring of 1954.
Others were Additional Protocol to the Convention concerning Customs Facilities for Touring, relating to Importation of Tourist Publicity Documents and Materials of 1954, and Customs Convention on the Temporary Importation of Private Road Vehicles of 1954.
Boboye said Todt wrote to the then Acting President Yemi Osinbajo, who asked for necessary information before it was passed to the Ministry of Justice, which prepared the gazette and passed to the Federal Executive Council, which gave approval.
"The implication of this now is that Nigeria has acceded to the six Conventions on Road Traffic and Road Safety, which is a landmark in the history of the country.
"All these have been pending but with the passion of Mr President towards road safety management in Nigeria, we are happy that the country has fully complied with the United Nations resolution for Member Nations to assent to this Convention.
"And Nigeria became today the 78th country that is signatory and acceded to the United Nations Conventions on Road Traffic and Road Signs," Oyeyemi told NAN.
The Corps Marshal assured the UN and the international community that Nigeria would fulfil its own part of the agreement
NAN reports that Buhari had signed the Instrument of Accession on Oct. 4, 2018.
NAN