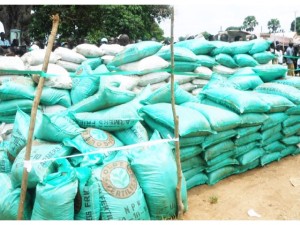 By Auwal Ahmad
The Presidential Committee on North-east Initiatives has commenced the distribution of 600 tonnes of fertiliser free to returning IDPs farmers in 9 local government areas in southern Borno, north-east of the country.
The Chairman of the Committee, General Theophilus Danjuma (rtd) represented by Professor Hauwa Biu disclosed this while speaking at the official flag -off of the distribution to the returning IDPs at Jaura Shehu in Bayo.
He said that the distribution of the fertiliser is under the committee livelihood programme component, which is aimed at food sufficiency and sustenance for people of the Northeast zone , particularly the IDPs.
General Danjuma emphasised  that the fertiliser distribution is to encourage IDPs farmers to boost their crops production particularly as the raining season has commenced in the areas.
"About 12, 000 bags of fertiliser will be distributed among the nine local government areas in the Borno south senatorial district , these fertiliser should be used for the purpose it is meant for bearing in mind that the federal government has spent a lot of money to procure these items.
"As you are aware, the north, particularly the northeast are predominantly farmers. God has blessed us with a vast landmass which we must use judiciously to continue to lead in food production to contribute positively to the economy of the north.
"Let me assure you that this Administration will not relent in its effort to develop the economy of the northeast, just last week our committee launched ICT resource Centre at the Federal University Gashua, Yobe State and will extend to other states of the North eastern part of Nigeria, to make the people of the North East self productive and economically independent.
Nigeria – Zamfara Procures 25000 Metric Tonnes Fertilizer For 2018 Farming Season — Gov. Yari