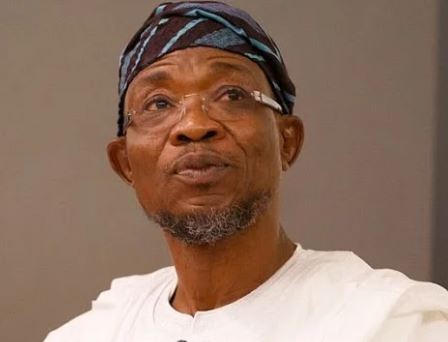 A section of Gov. Rauf Aregbesola's office in Osun, Southwest. Nigeria popular known as Bola Ige House, was on Monday gutted by fire.
The News Agency of Nigeria (NAN) gathered the fire started from an air conditioner, which was inside the governor's office but the governor was not around as at that time.
A correspondent of the News Agency of Nigeria (NAN), who visited the governor's office at about 6:30 p.m., reports that fire fighters were seen battling to put out the fire.
It was also gathered that the fire could not be put out from the inside because the security doors leading to the office could not be opened as the fire raged.
Staff at the governor's office were seen outside discussing the damaged done to the building.
Mr Adelani Baderinwa, the State's Commissioner for Information, who came to governor's office to access the damage, said the fire had been put out.
Baderinwa said the fire incident was as a result of power surge in one of the air conditioners inside the governor's office.
The commissioner said nobody was injured and no document or equipment was destroyed.
"I want to reiterate that every document in the governor's office is intact.
"The fire mainly affected the office of the governor alone and no other office was affected," Baderinwa said.
However, the Osun Commissioner of Police, Mr Fimihan Adeoye, also visited the governor's office to assess the extent of damage.
Adeoye, however, refused to speak with newsmen on the issue.
Nigerian Market Fire: Dangote Presents N.5billion To Rehabilitate Kano Traders