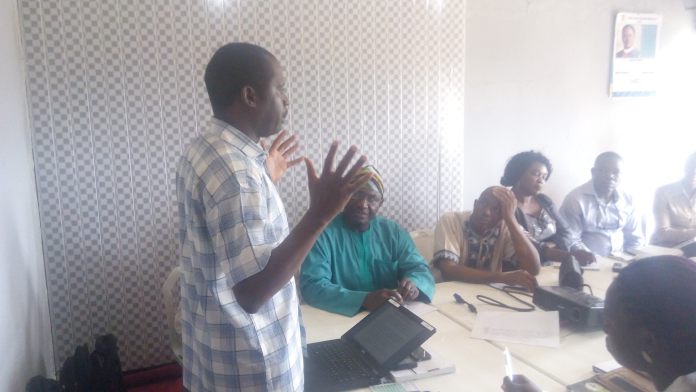 By Soffie Labari
A media specialist, Iliya Kure, on Tuesday challenged Journalists in Kaduna, northern Nigeria, to be authorities  in budget monitoring and reporting, so as to be able to hold government accountable.
The media specialist threw the challenge in a paper he delivered at a one day training workshop, organised by Africa Media Development Foundation (AMDF), on Budget Process, Monitoring and the Role of Media.
Kure identified four stages in budget, such as formulation or preparation, approval or enactment, implementation  and monitoring or evaluation.
He cited a recent media tour of projects executed by the Kaduna State government which were reported that they would be commissioned by the end of May 2018, but were not. It was therefore, the duty of journalists to report that the projects were not commissioned as scheduled, he said.
"During the tour, you reported that these projects were to be commissioned on 29th of May. You need to tell us what happened – were the projects commissioned or not? If they were not commissioned, you owe your audience the responsibility of developments on the commissioning", he said.
Highlighting features of a good budget, Kure listed accuracy, comprehensiveness, efficient, equitable, well planned, prepared on sound laws, sensitive to the needs of the people, transparent and time-bound.
In the formulation of budget, the Media Specialist listed the actors which include MDAs, CSOs and the Media adding that the  last two actors could generate data to help government know the priority areas of the citizens.
On open budgeting being implemented by Kaduna State government, Kure said it promotes citizens participation and monitoring to promote transparency and accountability in governance.
Declaring the training workshop open, the Coordinator,
Africa Media Development Foundation (AMDF)
, Sekyen Dadik, spoke of the importance of getting journalists understand budget processes to track and hold government accountable.
"As Journalists, we have roles to play in reporting budget professionally for benefit of the readers in the Society," she said.
Sekyen acknowledged gesture by the Kaduna State government for providing AMDF with copies of its 2018 approved budget booklets, which were used at the training.
Some of the participants who spoke to AFRICA PRIME NEWS said the training had broaden their knowledge on the concept of budget, budget process and budget cycle, as well as the various actors in budget and their respective  roles.