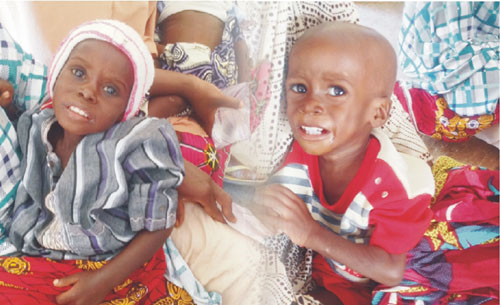 By Ahmad Umar
Gombe (Nigeria) – United Nations Children's Fund (UNICEF) has appealed to Gombe state government to release the 248 million Naira support fund to expand the implementation of Community-based Management of Acute Malnutrition (CMAM).
Drissa Yeo, officer in charge of UNICEF Bauchi field office, who made the appeal at the 2018 State Engagement Plan Development meeting in Gombe on Monday, called on the state extend the coverage to at least 3 additional local government areas.
He also called on the Governor to direct for the release of N10 million for 2017/2018 annual school census and maintenance of education management information system servers as well as facilities in the Ministry of Education and the state Universal Basic Education Board for the female teachers Trainees Scholarship Scheme.
Yeo said that Gombe state Government buy-in to the Female Teacher Trainees' Scholarship Scheme project by endorsing an MOU to sponsor more girls and enunciate a policy on recruitment and deployment of more female teachers and FTTSS graduates to teach in rural schools across the state.
"All the work plan for UNICEF supported programmers be considered, appropriation made for them and what has been appropriated released for implementation , including release of government counterpart cash contribution for the year 2018 for the sectors of Health, Nutrition and education
"This is our first joint meeting in Gombe state since the federal government and UNICEF started a new 5 years programme which will be implemented from 2018-2022. it is also the first time UNICEF is bringing all neighbouring states to Gombe state to plan together this is the result of the good collaboration we have enjoyed and continue to enjoy with the Gombe state government
In his remark, the Gombe state Secretary to the state Government, Mr. James Pisagih who was represented by the  Permanent Secretary General Duties, Usman Mohammed Shamaki, commended  UNICEF Bauchi field office for the effort towards improving the lives of the women and children in the state and the nation as whole.
"With the intervention of the UNICEF Bauchi field Office Gombe State Coordinating Office, GOMSACA and the implementing partners, cases of HIV has reduced tremendously in the state from 8.2 percent to 4.0%, regrettably UNICEF has withdrawn its support to HIV intervention in the state. I therefore call on the organisation to reconsider its stand in order to facilitate total eradication of the scourge in Gombe state", Pisagih added.
Child Malnutrition On The Rise In Nigeria, Despite Drop In Infant Mortality — Survey