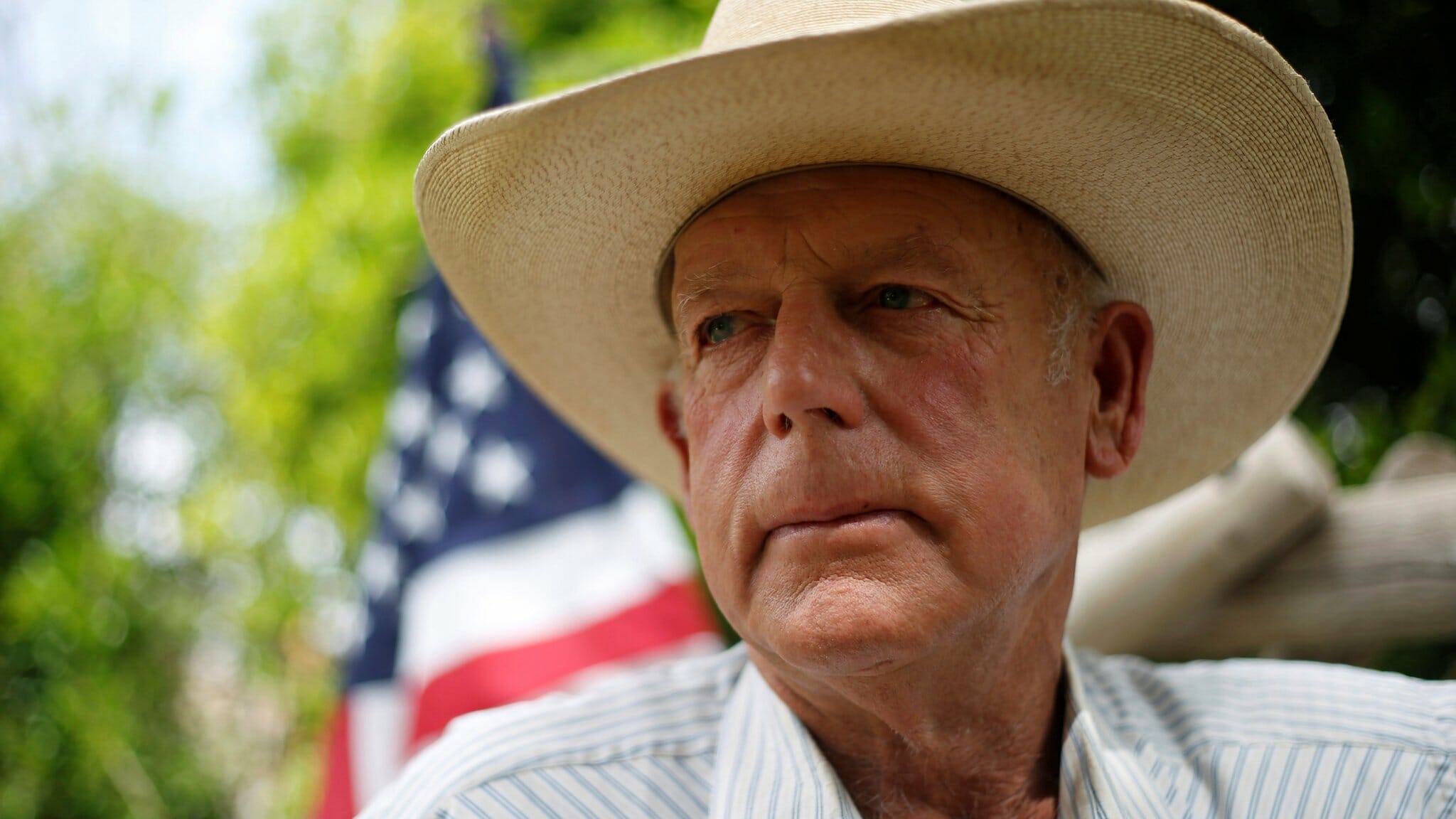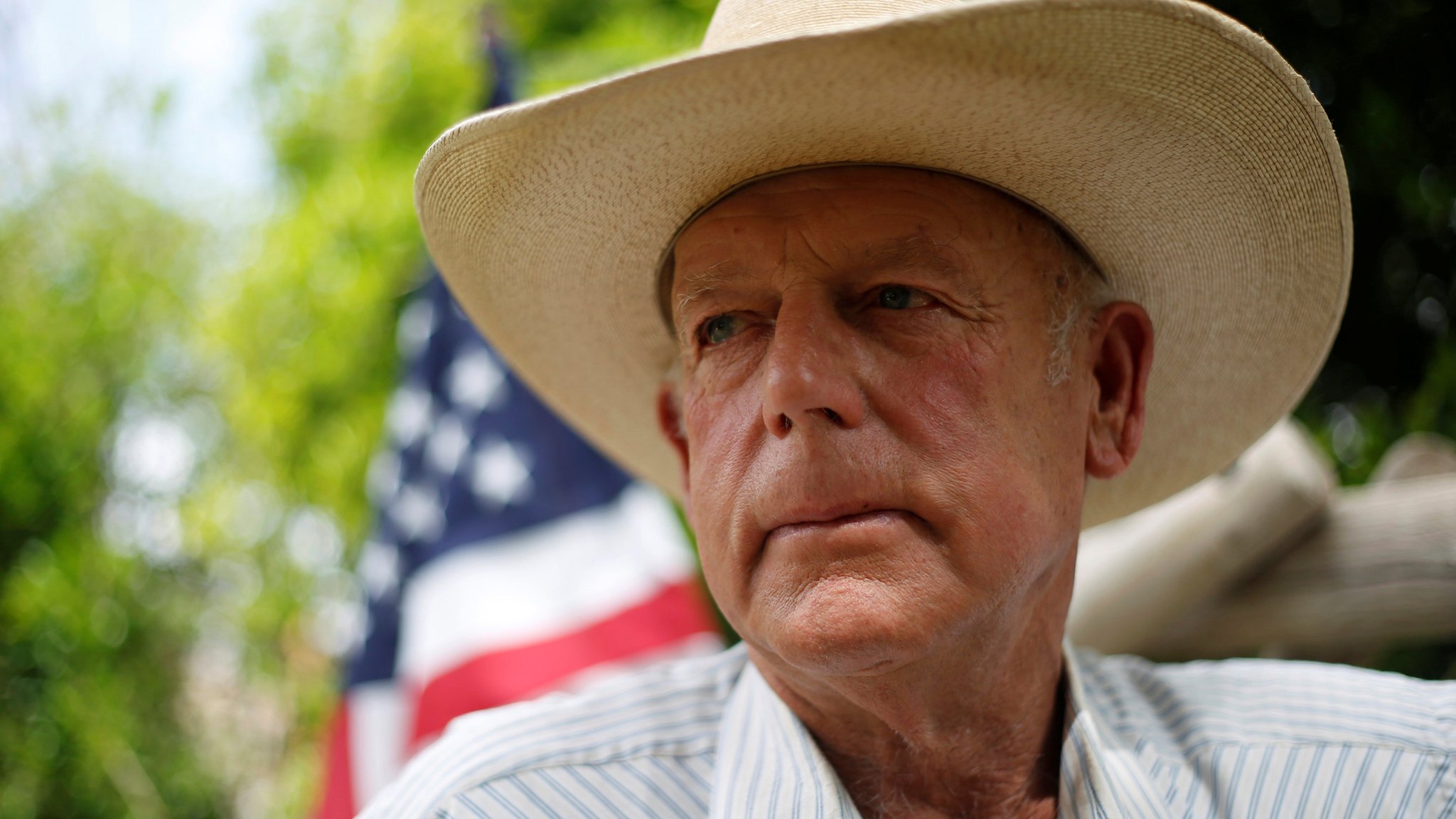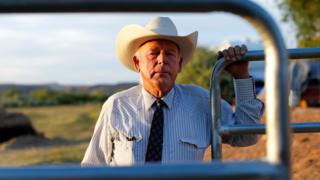 A court has thrown out charges against a Nevada rancher who was at the centre of a 2014 armed standoff with law enforcement over access to public land.
Judge Gloria Navarro dismissed the case against Cliven Bundy "with prejudice", meaning it cannot be tried again.
She said prosecutors had improperly withheld evidence that could have helped Mr Bundy and three co-accused.
It is the latest episode in a decades-old conflict between ranchers and the government over use of public land.
Supporters cheered on Monday as Mr Bundy hugged his wife and walked out of the Las Vegas court a free man.
He said he had been jailed for 700 days as a "political prisoner".
US District Judge Navarro last month declared a mistrial in the case. Bundy, 71, two of his sons, Ryan and Ammon Bundy, and a Montana militia leader, Ryan Payne, went on trial in October.
The four were charged with felony counts of carrying and using a firearm, engaging in conspiracy and threatening a federal officer.
Cliven Bundy expresses racist views
On Monday, the judge said her decision was partly based on "flagrant prosecutorial misconduct", the Las Vegas Review-Journal reports.
She said the prosecution had withheld evidence that could have been favourable to the defence team.
This included records about federal surveillance at the Bundy ranch, the presence of government snipers and previous law enforcement assessments that the Bundys posed no threat.
The four-day standoff happened in April 2014 near government-owned land outside Bunkerville, 80 miles (130km) north of Las Vegas.
Law enforcement officials tried to remove Mr Bundy's cattle, saying he owed more than $1m (£737,000) in grazing fees on US Bureau of Land Management property.
Hundreds of armed supporters rallied from across the country to keep officers off Mr Bundy's ranch.
The Bundys argued that the government lacked the constitutional authority to control the land where his cattle fed.
Last year, two separate trials against six other men accused of conspiracy in the Bundy ranch standoff ended without convictions.
Ammon and Ryan Bundy also led a 41-day standoff with federal officials at an Oregon wildlife preserve two years ago.
The brothers were among seven defendants acquitted last year in that case, but others were convicted.
The cases became a lightning rod for anger over perceived government overreach in the American West.
The Bureau of Land Management oversees much of the land west of the Rocky Mountains.
Note: This story is auto-generated from BBC syndicated feed and has not been edited by AFRICA PRIME NEWS