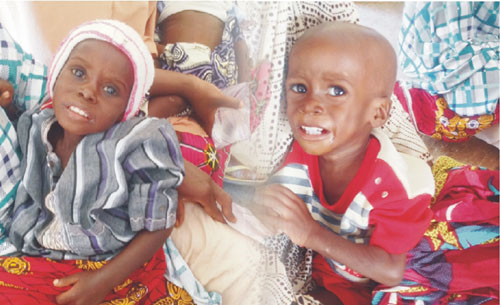 Stakeholders say that not just supporting women to go into agriculture in order to produce nutritious foods but having more women in policy formation of Nigeria will help in ending malnutrition, Odimegwu Onwumere writes
Ousmane Dore is a Director in African Development Bank for Nigeria. While in a public presentation lately, Dore orated that in spite of the huge labour investment by women in agriculture, productivity is low and they often have limited roles in decision-making on the farms. Dore later frowned and added that lack of ownership of land and other productive assets due to existing social norms have created a significant negative impact on the family income, nutrition and the country's Gross Domestic Product (GDP) at large.
This is even as Aisha Jummai Alhassan, Minister of Women Affairs and Social Development, while at an event on "Financial Inclusion and Social Investment Interventions in Nigeria" expressed trepidation that in many African countries, which Nigeria is among, there is a log in the wheel of inclusive pursuits, while those who call the shots against inclusion are far from meeting the needs of the population they are supposed to reach, and women are mostly affected.
A national paper harangued that women are hardly allowed access to credit facility in the financial sector. "As a matter of fact, among the total beneficiaries of the US$698 million fund created by government to ginger the growth of Small and Medium Scale Enterprises in the country, only 5 percent out of the 60 percent beneficiaries are women," the source said.
But upon the limited roles Dore said were given to women in decision-making on the farms, about 70 per cent of agricultural workforce in the country is contributed by women. Indications are that, the 70 per cent produce cover 80 per cent of Nigeria's food, and this is not enough to send malnutrition on errand outside Nigeria.
Highest In Number Of Malnourished Children
Records show that Nigeria has the highest number of malnourished children, Minister of State, Budget and National Planning, Zainab Ahmed disclosed this while at the flag-off ceremony of 2017 Nigeria Nutrition week themed "Improved Nutrition and Empowerment."
Nigeria would also require $912 million over five years to alleviate malnutrition, Dr. Chris Osa Isokpunwu of the Federal Ministry of Health, Abuja, made this known at a two-day Media Dialogue on "Leveraging Resources for Child Malnutrition in Nigeria" that took place on Thursday and Friday, April 28 and 29, 2017, at Enugu.
Interventionist Programme
The issues of malnutrition and women empowerment are puzzlements fronting stakeholders in the country of which President Muhammadu Buhari in his first bicentenary speech to Nige­rians on May 30, 2017 announced N1.6 billion National Women's Empowerment Fund.
Worried by the grave morbidity velocity of malnourished Nigerian children, wife of the President, Hajiya Aisha Buhari in July 2016, had launched a swift interventionist programme dubbed: "Get involved" to put off yearly death of thousands of malnourished children in the country.
A speech by the Deputy Governor of Rivers State, Dr Ipalibo Banigo, on Wednesday, October 25, 2017, in Port Harcourt, raised dust.
The radiating, blistering and scorching beautiful Banigo on the occasion of the opening ceremony of International Federation of Women Lawyers (FIDA) Nigeria Week/Annual General Meeting and Pre-convention meeting, while speaking on the topic, "Economic Empowerment of Women under the Nigeria Economic Recovery and Growth Plan 2017/2010", said, "studies had shown that women were central to economic growth of any nation."
Nigerian Women Without Financial Inclusion
Ifeoma Okeke, a public affairs analyst on April 2, 2017, gave a shocking revelation that women make about 49 percent of the country's over 170 million people, yet without financial inclusion.
"With Nigeria's female population estimated at 83 million (about 49 percent of the country's over 170 million people), the need for financial inclusion of women to boost development and employment opportunities is becoming increasingly urgent, especially at this period of economic recession," Okeke said.
It was gathered that about 42 percent of people who are financially excluded are women. According to the source, "Temitope Fadeyi, head, Financial Inclusion Secretariat, Central Bank of Nigeria, also revealed that out of 39.5 percent of people that are financially excluded in Nigeria, 42 percent are female."
Soliciting For More Political Appointment
According to Banigo, "Women should be given more political appointments to enable them to participate in decision-making and represent the interest of women.
"Educating a girl-child was one way of empowering a woman, while engagement in agriculture remained a way out of poverty and hunger."
The Minister for Agricultural and Rural Development, Dr. Audu Ogbe while speaking at the AGROBIZ stakeholders forum organised by the National Center for Women Development NCWD, for women farmers in Abuja, said Nigerian women need to be more financially comfortable.
According to Ogbe, "I want Nigerian Women to improve their lives and health and become more comfortable financially and that is the will of federal government.
"So, l believed that, for this country to grow and grow well, there is need for us to take a serious look at the situation of Nigerian women at every level down to the villages."
But the presidential fund was apparently not what Banigo thought women are looking for. Her body language suggested that investing in women would be economically important, but filling the supposed gender fissure in employment (labour) circle would add up. She was tensed-up with the view, adding that if urgent measures were not taken, "it can take about 70 years to close up the gender gap in the labour sector''.
Odimegwu Onwumere is a Poet, Writer and Media Consultant based in Rivers State. Tel: +2348032552855. Email: apoet_25@yahoo.com