By Amos Tauna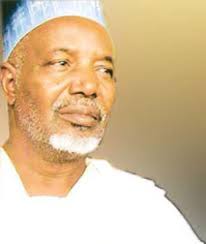 An elders statesman and former governor of old Kaduna State, Alhaji Abdulkadir Balarebe Musa, has observed with dismay that from 1999 to date, Nigeria is yet to experience what democracy is all about.
"All that Nigerians have experienced from 1999 to date is a military dictatorship transfering power to a civilian dictatorship," he lamented.
Speaking to Africa Prime News in Kaduna, Monday, Alhaji Balarebe Musa furiously asked, "Where is the democracy you are talking about? Who is practicing democracy in Nigeria? Who is benefiting from democracy in Nigeria?
"When the military hand over power to a military dictatorship and later hand over power to his chosen civilian dectatorship, is the democracy? And again the same military dectatorship is in power dectating to Nigerians what is to be done, you called that democracy?"
In this political dispensation, he explained, Nigerians are yet to test what democracy is all about, adding, "Democracy in its true word has lost its value in the present political dispensation because we are being let by selfish and greedy people that called themselves politicians."
He noted that what Nigerians needed to do to free themselves from slavery was to embark on peaceful revolution in all sphrres of life in the country with a view to ensuring that only people with patrotic and nationalistic belief be elected into elective positions to continue from the foundation laid by the founding fathers of the country.
"What we consider as political leaders since 1999 to date are only but a bunch of corrupt, selfish and irresponsible people that do not have the interest of the country at heart but only to enrich themselves to the detriment of all Nigerians," he observed.
Speaking on the insecurity in Kaduna State and the Southern Kaduna in particular, Alhaji Balarebe Musa opined that its main cause was as a result of the level of insincerity that has become the main stay of those in power that always cause conflict at any slightest provocation.
The present administration in the state, he said, failed to involve stakeholders in the state in exploring possible ways to ensuring peaceful coexistence among the various ethnic groups. "Failrue to carry every stakeholder along in arriving at critical decisions meant to ensure better understanding will continue to be a wasteful effotts by the state government in its attempts to bring an end to the incessant crisis in the Southern part of the state.
"There is poverty in the state, and unless this issue is urgently addressed, it may be a mirage to think of tackling insecurity in a situation where majority are roaming the streets aimlessly without any hope of tomorrow.
"The fundamental issues that have become main source of concern in the state have to be addressed by the government of the day if it is thinking of making remarkable impact. True reconciliation must be seen to be made among the various ethnic groups if not any coercive decision will not be in the interest of the majority."
He called on the government in the state to ensure people oriented programmes that are meant to change the living standards of the ordinary man in the street.