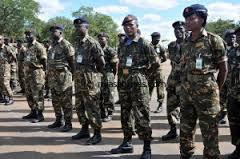 By Winifred Bulus
850 Malawian peace makers have been trained by UK military trainers and ready for deployment to Democratic Republic of Congo.
The Malawi Defence Force, MDF, made this known during the closing ceremony of the pre-deployment training for 9th Malawi contingent.
Speaking at the event, the British High Commissioner to Malawi, Holly Tett, saluted Mali and its effort in peace keeping in the MALBATTS battle groups.
"The long-suffering people of the DRC have very few guardian angels to look up to. You need to fill this gap. You all need to conduct yourselves in a manner that honours your fine military heritage and stand proud against the tyranny of those that have long exploited the people of the DRC.
"The UK's support to Malawian troops in peacekeeping operations is yet another positive outcome when two Commonwealth partners work together," he explained.
Commander of the Malawi Defence Force, General Griffin Spoon Phiri, expressed gratitude to the UK for the vital role it played in helping the Malawi Defence Force in forming a formidable unit, MALBATT 9 FIB 5.
Malawi would fight along with other troops from South Africa and Tanzania being part of the Force Intervention Brigade (FIB) which is part of the United Nations Organization Stabilization Mission in the Democratic Republic of the Congo.
The troops are to fight against rebel groups in Congo such as the Allied Democratic Forces (ADF), which is considered to be a rebel group in Uganda and the Democratic Republic of the Congo and another rebel group known as National Army for the Liberation of Uganda (NALU) which is the a rebel group opposed to the Ugandan government.
Malawi has been playing a vital role peace keeping in Cote d'voire from 2011 to mid-2013 and provides protection for defenseless citizens in Congo.UK has been supportive of the course by providing funds as well as trainers and training materials for the peace process.