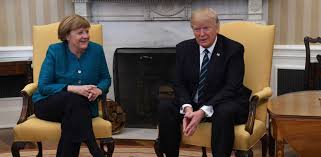 President Donald Trump has stood by claims he was wiretapped under Barack Obama, telling visiting German Chancellor Angela Merkel: "At least we have something in common, perhaps."
US intelligence agencies under Mr Obama reportedly monitored Mrs Merkel's phone, sparking an angry response.
But both Republican and Democratic congressional leaders have said they do not believe Mr Trump was wiretapped.
Mr Trump and Mrs Merkel have discussed key issues including Nato and trade.
Her visit had been scheduled for Tuesday but was postponed due to a snowstorm.
Mr Trump made his wire-tapping jibe in a joint press conference with Mrs Merkel. She gave a quizzical look.
He was also asked about a comment by White House press secretary Sean Spicer that the UK's GCHQ spy agency had carried out wiretapping on Mr Trump during the US election campaign.
Mr Trump said Mr Spicer had been quoting a comment on Fox TV. The president said he had not offered an opinion on it, adding: "You shouldn't be talking to me, you should be talking to Fox."
Fox later read out a statement on air, saying: "Fox News knows of no evidence of any kind that the now president of the United States was surveilled at any time in any way, full stop."
GCHQ rejected the allegations against it as "nonsense" and Downing Street says it has been assured the US will not repeat the claims.
The US president was also asked if he regretted any of his regular tweets. He said "very seldom", adding that it was a way to "get round the media when it doesn't tell the truth".
The body language was at times awkward. In an earlier photo opportunity in the White House, Mrs Merkel asked him quietly: "Do you want a handshake? " He looked forwards with his hands clasped and did not reply.
Curled from bbc.com