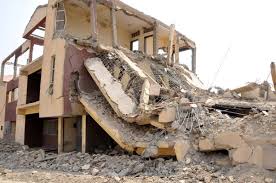 By Bashir Adisa
Kaduna (Nigeria) – A member of the Nigeria Society of Engineers, Engineer Oginni Muraina Alade, has decried the high rate of unqualified building engineers, who posed as professionals taking contracts to build substandard building; saying, it is the major cause of collapse of buildings in the country.
Alade stated this at the weekend in Kaduna in North-west Nigeria, while presenting a paper during a seminar, on the alarming rate of building collapse in Nigeria.
He identified other factors to include, poor workmanship, use of substandard building materials, illegal alterations of design and faulty construction methodology among others.
According to him, "It is disheartening to state that non professionals are "evil collaborators" with the cooperation of "some ignorant and arrogant" client in seek of cheap labour, have taken up the services of Architects and engineers in the building industry; resulting to erection of buildings susceptible to collapse.
"Even professionals like Quantity Surveyor, Estate managers, Business managers, Land surveyors and even Architects present themselves to clients as Engineers; hence the responsibility to ensure serious structural work in some cases (for multi-rise structures) are place in the 'wrong hands'. Inter-professional interaction can help by campaign or better place enacting punishment to confirmed defaulters.
"Any client or project owner confirm to have defaulted by engaging non professionals or found to have refused to adhere to approved design specifications should be charged for non compliance or stiff penalty be meted on such client as this will serve as deterrent to others.
"All development control agencies of Federal Development Control Agencies, State Development Control Agencies, Nigerian Society of Engineers (NSE), Council for the Regulation of Engineering in Nigeria (COREN), Nigeria Institute of Builders (NIOB), Nigeria Building and Road Research Institute (NBBRI), Building Collapse Prevention Guild (BCPG) and Standard Organization of Nigeria (SON) should be more empowered by stiffened legislative backing to not only close a site confirmed to have defaulted in carrying out standard building practices, but be empowered to prosecute or raise alarm to the appropriate bodies, prosecution of defaulting client or professionals.
"The regulatory bodies will only succeed when the key implementation tools, the supervising and monitoring team, professional stand the grounds to ensure that all building constructions are in accordance with the laid down by-laws and procedures," Alade explained.
Another fellow, Engr. Ganiyu Mustapha on his part faulted the non existence of legislation to check building constructions saying "No law exacted to build. People build without approvals. They build foundations and go as far as six floors without approval.
"In advanced country, you get your foundation approved before continuing with building," he added.