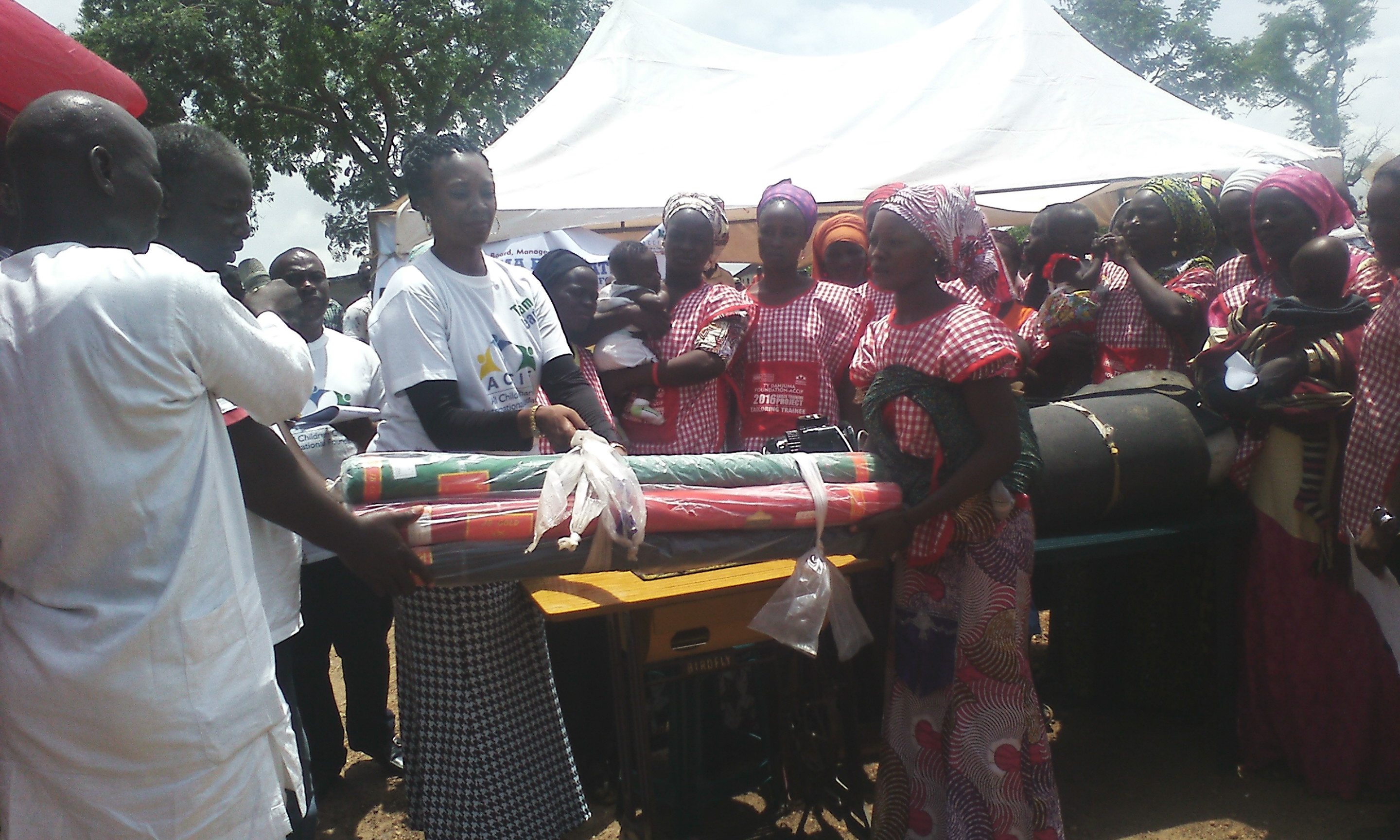 By Longtong Ibrahim
Kaduna (Nigeria) — The T.Y. Danjuma Foundation in collaboration with the All Children Charity International Foundation have picked fifty-five (55) Internally Displaced Persons (IDPs) camping in new Kunchigoro, a suburb of the Federal Capital Territory (FCT), to be empowered in various skills in its 2016 'IDPs skills training program.'
In 2015, 50 IDPs camping in Pegi, a community in Kuje Area Council of Abuja, benefited from the first phase of the Foundation's training program.
The New Kunchigoro IDPs will receive an intensive training in shoe making, tailoring and welding technology for a period of six months.
According to the Executive Director of the All Children Charity International Foundation (ACCIF), Ranti Bosede Daudu, during the one-day Orientation Ceremony in Abuja, the IDPs would go through an intensive training, after which each trainee will be given startup equipments at the end of the six months' period.
She explained that the training is aimed at making them self reliant as well as provide means to cater for the needs of their families anywhere they find themselves, rather than depend on charity.
She noted that, "20 IDPs will be trained in tailoring; 25 in shoes making; while 10 will be trained in welding technology. Lunch and training materials will be made available for the trainees daily during their training days.
"Each of the vacations will have two trainers, and an entrepreneurial class is being put in place for the trainees where they will be taught business skills and management on how to effectively manage their own businesses afterwards.
"The Foundation's aim is to cater for persons with disability and the vulnerable in the society. The interventions to the IDPs was as a result of the uncertainty of their displacement; so, training them in various skills will make them rely less on charity but something they would gain and even last them for a life time," the Barrister noted.
While urging the trainees to be dedicated in the course of their training, Barrister Daudu thanked the T.Y. Danjuma Foundation for their excellent service to humanity.
In a remark, a representative of the T.Y. Danjuma Founadation, Gima Forje, urged the trainees to take the training very serious so as to be empowered to train others in future. He added that, the Foundation was committed to reaching out to the less privilege in the society.
One of the beneficiaries of the training program, Danjuma Andrawus, who is a father of four, expressed appreciation to the Foundation for coming to train them in various skills. He, however, called on the federal government to work out modalities on restoring peace in the North-east, so that they can go back to their farms as many of them are farmers, who are now idle in strange lands.
The one-day Orientation Ceremony featured traditional dance by the IDPs and pupils in the IDPs camp, who are learning in a school without walls and roof.
New Kunchigoro camp is one of the four camps in Abuja that has over 2000 IDPs, who fled their homes as a result of the Boko Haram insurgency, which has bedeviled the north eastern part of Nigeria.