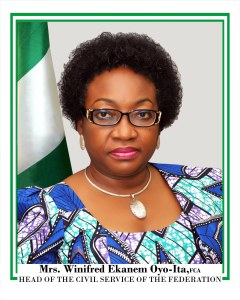 By Longtong Ibrahim
Kaduna (Nigeria) – Public Servants in Nigeria have been tasked to ensure regular and  complete medical check-up to know their health status, in order to ensure good health and effective service delivery in the work force.
Head of the Civil Service of the Federation Mrs. Winifred Oyo- Ita, made the call recently in Abuja while declaring open a five day free medical check-up for Federal Civil Servants in the country.
A statement by the Civil Services' Assistant Director, Media Relations, Mohammed Manga, noted that; Oyo-Ita said that most of the reported cases of collapse of some workers either on their way to their respective offices or during office hours could be attributed to lack of proper medical check-ups by workers to determine their health status.
According to the statement, she advised workers to always create time out of their busy schedules to ensure that they have a thorough medical check-up of their health especially in recent times, when there are reported cases all over the world of increase in hypertension among the adult population, and other related contagious diseases that can be so devastating if not dictated at the earlier stage for possible and proper medical attention.
She stressed further that workers should seize the opportunity of the five day free medical check-up to ensure that they know their health status; while reiterating government's determination of ensuring a healthy workforce which would be committed to providing effective, efficient and prompt services to Nigerians, saying, the free medical check-up would be a regular one.
Speaking earlier, the Senior Medical Officer, in charge of the Federal Government Staff Hospital, in the Federal Secretariat Phase II, Abuja, Dr. Vivian Okafor, said that, the exercise was organized to give workers the opportunity to know their health status for possible medical attention.
She noted that, recent report indicates that about 35 per cent of Nigerian adults are hypertensive and this she believe would include the Federal Public servants whose schedule of work does not allow them to have the  proper medical attention they require.
Dr. Okafor stressed the need for continued sensitization of workers and Nigerians for regular medical checkups in order to know their health status and possible reduction in some health challenges.