By Longtong Ibrahim
Kaduna(Nigeria) – Following the state of insecurity and rise in criminality in Kaduna state, North-west Nigeria, the Inspector General (IGP) of the Nigeria Police Force, Solomon Arase has directed the Assistant Inspector General of Police in charge Zone 7, AIG Ballah Nasarawa, to relocate to Kaduna State for an effective supervision of the security situation in the State.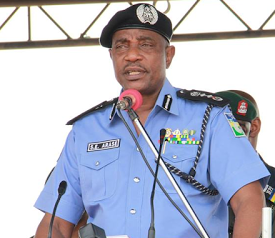 A statement by the force spokesperson Olabisi Kolawole, noted that the IGP has urged the AIG to devise new intelligence gathering and crime-fighting techniques to suit the local challenges, and halts the incessant kidnapping as well as other forms of crimes and criminality, especially in Jere and Kagarko Local Government Area of the State.
Arase further directed Police officers who have served in Kaduna State Command for a period of six years and above to be transferred out of the Command with corresponding replacement.
In a related development, the Inspector-General of Police has equally directed the Commissioners of Police in Kogi State Command and his counterpart in FCT to improve on the surveillance network and high police visibility in their respective Commands, especially along Abuja-Lokoja-Okene Kabba-Owo axis, to check the incessant criminal activities in the areas.
He however assured Nigerians that the Nigeria Police Force is committed to ensuring their safety. "The Police in cooperation with other security agencies will continually ensure strategic responses towards eliminating any threat to internal security of the nation."