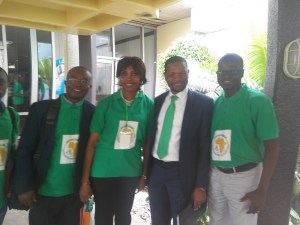 Nigeria and the United Nations Environment Programmes (UNEP) have moved decisively to combat food insecurity, effect of climate change, ecosystems degradation and poverty in the country with the launch of the Ecosystem- Based Adaptation for Food Security Assembly (EBAFOSA),
The launch of EBAFOSA-Nigeria National Branch was held at Sheraton Tower in Abuja on 18th of March, 2016.
EBAFOSA is the first every inclusive pan-African framework and platform, an institution with protocols – a constitution and rules of procedure adopted in an inclusive  continental process – guiding its actions, that provides a platform for all stakeholders in a country – from governments and their agencies, the public sector, private   sector, educational and research institutions, individual publics/citizens, CBOs, international intergovernmental organizations, NGOs, CSOs etc. to collaborate in a  participatory way in developing and implementing policy solutions to upscale EBA-driven agriculture and its value chains toward ensuring sustainable inclusive growth  in Africa.
EBAFOSA seeks to combat food insecurity, climate change, ecosystems degradation and poverty in Africa using an innovative approach that decentralizes the development and application of the policy solutions in the least bureaucratic channel to ensure immediate results are recorded at the grassroots in an inclusive, participatory way towards achieving the Sustainable Development Goals (SDGs).
The Minister of Agriculture and Rural Development, Audu Ogbeh; the Minister of Budget and National Planning, Udoma Udo Udoma; and the Minister of Environment, Amina Mohammed, were all represented, while the UNEP Africa Regional Coordinator, Dr. Richard Munang, was present at the official launch of EBAFOSA with the theme: "Re-shaping Nigeria Food Security and Climate Resilience Through EBAFOSA."
Meadows Community And Development Outreach (MCDO) an NGO based in the north central of the country which has a great concern for green environment and current global environmental crisis most especially, pollution through emission of Green House Gases (GHGs), mining, industrial waste, excavation, Climate change, El Nino,  deforestation, harvesting of agricultural produce and erosion of agrochemicals into the streams and rivers, is one of key partners among other partner that witnessed the event, in a full support of the campaign for EBA-driven policy and implementation in Nigeria.
During the Launch of EBAFOSA Nigeria, the UNEP Regional coordinator, Dr. Richard Munang in his speech thanked the government of Nigeria for taking the lead in this great campaign against poverty eradication, unemployment, and optimizing the agro-value chain to unleash food and livelihood opportunities.
Inadequate implementation indeed constitutes a formidable bottleneck to Africa's progress. This has resulted in Africans remaining entangled in the perennial poverty traps, amidst great potential for progress.
Poverty levels have hardly shifted. Almost one in every two Africans lives in abject poverty and under status quo; it is projected that most of the world's poor will be living in Africa by 2030. Unemployment is another pressing challenge. As we speak, the youthful population of age 15 – 25, currently at 200 million and projected to double by 2045 has an unemployment rate of 60%. This constitutes an impending threat to stability in the continent; a possibility acknowledged by the African Union.
In his remarks, Minister of budget and National planning, Senator Udoma Udo Udoma appreciated the efforts of the initiators of EBAFOSA and stressed that the objectives of Ebafosa key into two of the six main pillars of the current administration policy thrust and priority programmes, which are economic and environmental sector.
Optimizing food production through embracing ecosystems based approaches can result in yield increase of 116 – 128% with a commensurate increase in farmers' income. Further linking ecological production with both supply and demand side value chains will potentially create as many as 17million jobs annually for our youths and catalyze an agro-sector which projected to worth $1 trillion by 2030.
As the launch of EBAFOSA Nigeria National Branch (NNB) is being witnessed today, Meadows Community And Development Outreach wishes Ebafosa NNB a huge success, as the implementation of the programme commences soon, such that Nigerians can boast within 95% confidence limit that our country is secured in terms of food and poverty.
Source: PR Nigeria