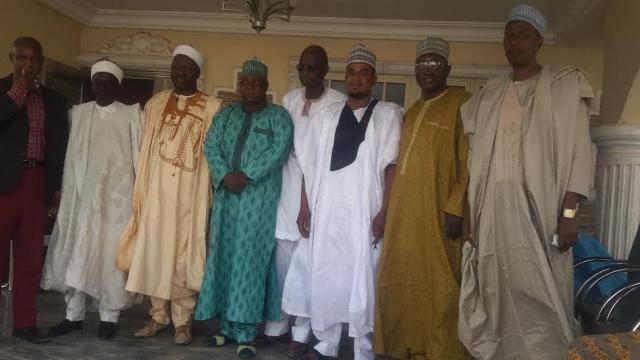 By Mohammad Ibrahim
Kaduna (Nigeria) — In an effort to strengthen peaceful co-existence, inter -religious dialogue and Tolerance in Nigeria, a team of Muslim Clerics have joined their Christians brothers to celebrate the Easter season in Kaduna, northwest Nigeria.
The Muslims clerics also congratulated christians over the successful completion of the 40 days fasting and prayers, with a call on Almighty God to accept their prayers and bring peace and unity in Kaduna State, Nigeria and world over.
The clerics also visited founder of Peace Revival and Reconciliation Ministry in the country, Pastor Yohanna Buru to celebrate with him.
Nigerian authorities have declared Friday 25 and Monday 28 March as Public holidays throughout the country to enable christians celebrate Good Friday and Easter Monday with love ones.
Alaramma Abdulrahman Mohammad Bichi who led the Muslim delegation said the reasons for the visitation to christian scholars and preachers was to congratulate Christians world over on the successful completion of Forty days Lenten season.
"Lent is the Christian season of preparation before Easter. The Lenten season is a time when many Christians observe a period of Fasting, Repentance, moderation, self-denial and spiritual discipline and the purpose for this is to set aside time for reflection on Jesus Christ , his suffering, sacrifice, life, death and resurrection," he said.
Alaramma Abdulrahman said during Muslims 30 days fasting period in holy month of Ramadan, "Pastor Yohanna Buru brought other christian brothers to join us in breaking fast at our Homes, Mosques and also attended Ramadan Tafsir lectures.
"We are here to extend our Goodwill messages and congratulations to all Christians world over and to wish them happy Easter celebrations. We also call on Federal and State governments to provide adequate security at churches, Parks, market, and social gathering areas in other to avert any means of security breach.
"Three Pillars of the lent are Almsgiving, prayer and daily fasting for Forty days and we are wishing them all the best of the completion of the season and happy Easter to all christians" he said.
Receiving the Muslim delegation, Pastor Yohanna Buru who is also the General Overseer of Christ Evangelical Intercessary Fellowship Ministry said Muslims and Christians must join hands to end all form of ethno-religious, political differences and pray for peace, unity and stability of the country.
He explained that religious leaders need to redouble effort in preaching peace and encouraging religious tolerance among their followers.
Pastor Buru said, every years, Christ Evangelical Ministry usually join muslim scholars in breaking their Ramadan and also join muslims in celebrating the Birth of the Holy Prophet Mohammad.