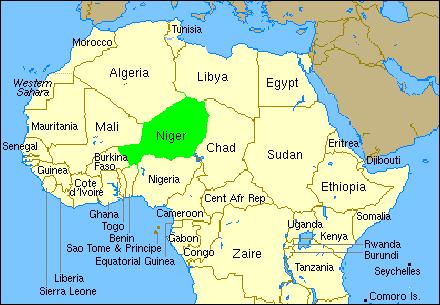 Niamey (Niger) – Two separate Islamist attacks killed three policemen and a soldier in Niger on Thursday, an official said, just days before the impoverished west African nation votes in the second round of presidential elections.
Gunmen believed to be linked to Al-Qaeda in the Islamic Maghreb (AQIM), the terror group's African affiliate, shot dead three policemen in a market in Dolbel near the border with Burkina Faso, the interior minister Hassimi Massaoudou said.
"The attackers were repelled, and we are currently sweeping the area. We don't know the toll on the attacker's side, they took their wounded and dead," the minister said.
Near the border with Nigeria, four suicide bombers attacked a military convoy, killing the local military commander and injuring two others, the minister said.
A fifth suicide bomber, a young girl, was prevented from detonating her vest.
Massaoudou said Boko Haram militants were behind the attack.
There were no civilian casualties.
Niger goes to the polls on Sunday for the second round of presidential elections expected to hand another term to incumbent President Mahamadou Issoufou.
The opposition has said they will not recognize the results of the vote and have repeatedly complained that their candidate Hama Amadou, who is currently receiving medical treatment in Paris and was in jail in Niger before that, has been treated unfairly.
Source: news24