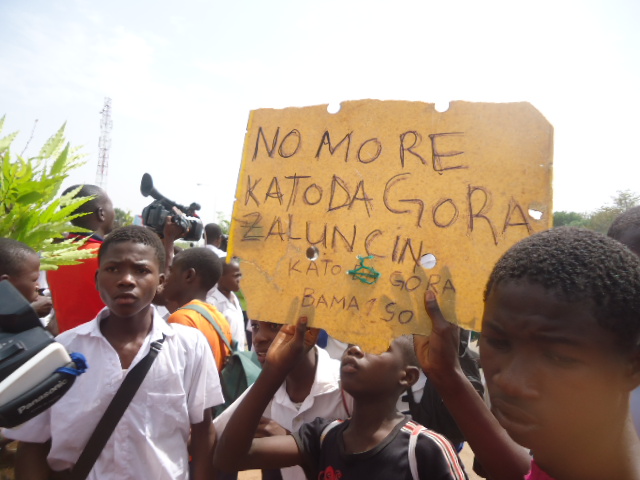 By Longtong Ibrahim
Kaduna (Nigeria) – Some students from Government College Kaduna, North-west Nigeria on Wednesday, marched to the gate of the Kaduna state government house, protesting the introduction of 'Kato Da Gora' group by  school principal, alleging that, the group 'maltreat and even threaten to kill' them.
The students who were in group sang and carried placards, calling on Governor Nasir Elrufai to draw the attention of the schools' principal who introduced the group and also withdraw their services from the school.
One of the protesting students, Shamsudin Abdullahi narrated that the group just came from nowhere and are harassing them anyhow. He said, "They even threaten to kill us and from what and how they behaves, they can do it because they are all drugs addict."
Another student, Subanat Tajjuden called for the removal of the school principal. Assording to him, the principal gave the group permission to kill if they can. "We are calling on the state government to withdraw the principal, Mallam Isma'il Ibrahim from the school. They beat us even without reason, they should withdraw them because we don't like them," he emphasized.
Commenting on the development, a Corps Member, Shebatu idris, who is serving in the school said the school authority introduced the group (Kato Da Gora), into the school for security reasons. He explained that, due to the free education programme introduced by the state government, the population of the school rose and became uncontrollable by the principal and tutors.
According to Idris, some of the students always roam about during class periods, while others bring friends who are not students to infiltrate other students carrying weapons like knives to fight in schools.
He noted that, it was the stubborn nature of some students that compelled the Principal through the State's Ministry of Education to introduce the group who are about 10-15 in number to ensure discipline amongst them.
Speaking also, the school's Labour prefect, Abdulmumin Kashim, said the school authority introduced the group so as to control and ensure they behave well – some of the students always fight in school and do as they want. He added that, "There was even and incidence that happen sometimes back that JSS three (3) students attempted to rape a Corps member who was teaching them."
Kashim noted that the 'Kato Da Gora' group is in its second day at work, but the school has witnessed some calmness and peace.
According to a reliable source, 'Kato Da Gora' group is a kind of vigilante group formed by group of individuals to inculcate disciplines in some communities in the state where they are operational.