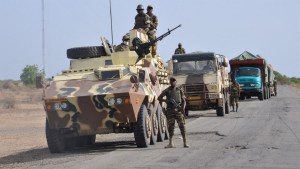 Benin Republic has announced its readiness to deploy 150 military troops to the Multinational Joint Task Force (MNJTF), a regional military cooperation established by Nigeria with some neighboring African nations to fight Boko Haram insurgents and other terror acts next month.
Statement by the Deputy Director Army Public Relations (DDAPR) of the MNJTF, Colonel Mohammed Dole stated that Cameroon, Chad and Niger Republic have already sent their troops since late 2015 to join the Nigerian forces at Njeimana.
The Minister of Defence, Yarou Robert Theophile in continuation with visits to political authorities and military hierarchies of the member states of MNJTF for consultation, the Commander MNJTF, Major General Lamidi Adeosun was in Benin Republic where he met with the Honourable Minister of Defence (HMOD) and Chief of Defence Staff (CDS). This visit followed the final operational visit to troops deployed in all the Sectors and Sub-sector, where he assessed their immediate logistics and operational requirements in the field.
It added also that while conferring with the HMOD, Yarou Robert Theophile, the Commander MNJTF briefed him on operational status of the MNJTF and arrangement made for the provision of living and offices accommodation for the Benin contingent. The Commander added that, HQ MNJTF and all the Sectors are fully operational; hence the need for deployment of Benin troops in the theatre of operation. The Benin contingent are expected to perform garrison duties, provision of escort and security to humanitarian operations, protection of Very Important Personalities (VIP) and serve as reserve force for quick intervention when necessary.
The Minister assured the Commander of the government's commitment to deploy its pledged troops for MNJTF operation. He said that, the initial delay was due to some logistics and equipment challenges, which were recently provided. The first batch of 150 military personnel will be deployed in Ndjamena, HQ MNJTF before the end of April 2016, he added. While the remaining batches will be airlifted subsequently to meet up with 750 troops expected from Benin Republic. The Minister commended the effort of the member states of MNJTF for pulling resources to fight the menace of Boko Haram in the Lake Chad region.
The statement further said in his remarks, the CDS, Brigadier General Awal Bouko Nagnimi, informed the Commander that the earmarked Battalion has undergone specialized counter terrorism and insurgency training, so as to be able the troop to perform their duties effectively.
The CDS said that, unlike other member states of the MNJTF, Benin will deploy its troops in another country, therefore a lot of logistic and equipment are required to be provided for the troops before their deployment. However, he said the troops are combat ready and in high morale to be inducted into the theatre of operation. An advance party is expected to visit Ndjamena before the movement of the troops to their location next month.
Source: PR Nigeria