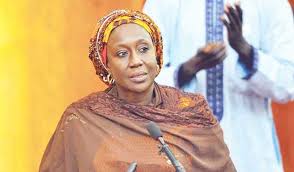 By Longtong Ibrahim
Kaduna (Nigeria) – Nigeria's Minister of State for Trade and Investment, Aisha Abubakar has reiterated the federal government's commitment in diversifying the Nigerian economy for sustainable growth and development.
The Minister stated this during the opening ceremony of the 37th Kaduna International trade fair over the weekend in Kaduna, North-west Nigeria. The theme for the 2016 trade fair is, 'Promoting solid minerals sector for sustainable economic development'.
She said for a country to achieved development, its economy has to be diversified in order to ensure job creation and increased investment inflow into key areas like mining, agriculture, and manufacturing in order to enhance rapid industrialization.
The minister added that government would ensure that the on-going reform programs in the areas of trade, industry, power, agriculture and solid minerals sectors result in a vibrant private sector participation and increase efficiency in the national economy.
"As we confront the challenges ahead, I urge the entire private sector operators in Nigeria and their foreign counterparts to positively reciprocate these gestures by investing in the identified growth and employment generation sector of the economy," she said.
In his key note address, Kaduna state governor, Nasiru El-Rufai, who was represented by the Commissioner of Commerce, Balarabe Shehu, said the State government is making efforts to revitalize and diversify the economy of the state     to attract local and international investors and also encourage non oil exports.
The governor said that the 37th Trade Fair would create an environment to explore new markets, create and sustain better understanding among nationalities, adding that, the state government had also proposed one modern market for every town in the state to open business opportunities for rural dwellers;
" We are also making effort to acquire some sites for the establishment of Industrial Parks in the State. Similarly, the State has expended substantial amount in the development of Kaduna Inland Dry Deport to ease clearance of goods in Kaduna and the North West Geopolitical Zone and to also serve as origin of the final destination," he said.
Earlier in his welcome address, President of the Kaduna Chamber of Commerce, Industry, Mines and Agriculture (KADCCIMA), Abdul-Alimi Bello said that within six months, members of the organized private sector have lost about N1.46 trillion as a result of the stalled business activities cause by inadequate supply of foreign exchange which was as a result of the Federal Government policy on foreign exchange restriction.
He said the 37th edition of the trade fair, "as in the previous versions has witnessed an upsurge in the number of participants, stakeholders and patrons."
He said the this year's trade fair, is aimed at complementing federal government effort to boost diversification of the national economy and reduce the over dependent on oil and gas as well as creating jobs in the country.