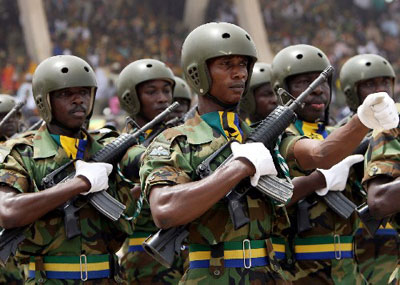 The Ghana Armed Forces has downplayed fears that some 500 army recruits it sacked on grounds of alleged misconduct about two months ago will pose a security threat to the country.
A lawyer and former minister under the regime of Dr Kwame Nkrumah, B.K. Senkyire, had urged the state to take steps to absorb the sacked recruits or risk possible revolt.
But speaking with Class News, the Director of Public Relations of the Ghana Armed Forces, Col Eric Aggrey-Quarshie, said the service carried out a thorough inquiry before the decision was made.
"The decision to sack them is not something that somebody just got up and said let them go. Several considerations were taken before that decision was arrived at. [If] somebody wants to be a criminal, it doesn't matter where he is, he will still be a criminal," he asserted.
"We are always looking at what can happen today, but for the years ahead, we don't look deep into that. They started training, and in less than two months, they will not take instructions and they were saying that the training is too difficult, organizing demonstrations; you want to keep such a people in the system?
"This happened while they were under training, when he becomes a soldier …and when you take him on a mission and things are hard, what do you expect from such people?" he asked.
With regards to fears that these recruits might turn criminals, Col Aggrey-Quarshie said "even if they are not trained and they want to become criminals, they will, and if even they pass out and still want to become criminals they will."
Source: Ghana web