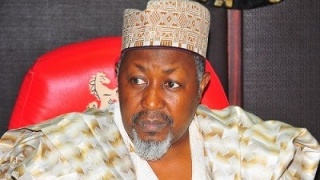 Dutse (Nigeria) – The United Nations International Children Fund (UNICEF) on Monday stated that no fewer than 600,000 out of 1.1 million children below the age of five in Jigawa State, North-west Nigeria are malnourished.
The organization's Chief Nutritionist in Nigeria, Arjan de-WAGT, made the disclosure when he led other partners on "Improving Nutrition in Northern Nigeria" on a courtesy visit to Governor Muhammad Badaru in Dutse.
De-WAGT said 165,000 children between the ages of five to 59 months were severely malnourished.
He warned that if not catered for, an estimated 32,000 of the number were likely to die this year.
He said: "In our latest statistics, Jigawa has the highest number of malnourished children in the country, which means half of its children are affected.
"One hundred and two thousand children from zero to six months do not get exclusive breast feeding.
"Breast feeding is the most effective intervention to prevent malnutrition and save lives."
The chief nutritionist also said 650,000 children from six months to five years did not receive Vitamin A supplement.
According to him, 117,000 of the 265,000 pregnant women in the state do not also take iron supplement during pregnancy to prevent anaemia.
He stressed the need for the federal and state governments to put in place "nutrition coordination and planning mechanism" as intervention measure to curb malnutrition and save lives.
De-WAGT said UNICEF had in the last five years been working in 15 out of the 27 local government areas of the state to improve the nutrition status of children and mothers.
He said the work was being undertaken by UNICEF in collaboration with other partners such as the Save the Children and Action against Hunger.
He said over 40,000 children's' lives were saved in the state through treatment and various interventions undertaken by UNICEF and its partners.
In his response, Badaru, who described the situation as "worrisome and pathetic", promised to take drastic measures to reverse the trend.
He said his government had commenced reforms in the health sector to improve the health conditions of the people.
He said: "We are aware of the dangers and my government will take all the necessary steps to reverse the situation.
"This is of great concern to me because there cannot be any growth or development in the state without healthy people.
"I shall expend all necessary political will to tackle the problem."
The governor pledged to set up a technical committee to look into the statistics and find immediate solutions to the problem.
Source: The Eagleonline