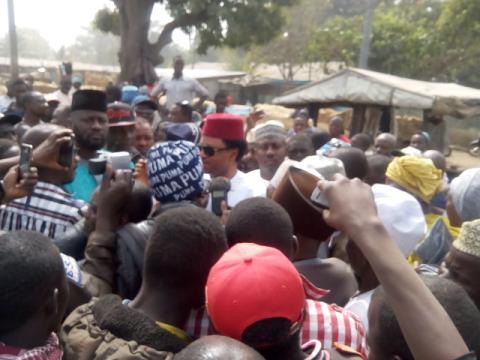 ‪By Mohammad Ibrahim
Kaduna (Nigeria) — ‪In an effort to put a smile on the faces of Kaduna fruit markets, whose shops were gutted by fire early hours of Monday, Senator representing Kaduna Central District, Shehu Sani, has donated sum of 1million Naira (about US $5,000) to the victims.
‪Addressing shop owners at the market, Sani also pledged to pay two years school fees of kids of man who died in the fire incidence.‬
According to him, he was at the market to sympathise with the traders, following the 'unfortunate fire incident.'
He blamed the authority of Railway Station for relocating the traders from their original site eight years ago, which was a stone throw from where they are now.
‪"the market is an historic market, no one living in Kaduna that has not benefited from the market.
"So I'm here to sympathise with you over the unfortunate incident that affected all of us in Kaduna South and not only you.‬
‪"As a senator representing this zone, I have written a letter to Minister of Transportation and asking him to send representative to see things for themselves.
"The only assistance they offer you is for you to relocate back to your original place.‬
‪"The place has been abandoned and now taken over by snakes and weeds. The best is for the management of Railway Station to relocate you back to your original place because this place is congested.‬
‪"As for the deceased who lost his life in the fire inferno, I will sponsor the kids for two years," he said.‬
‪The market authority however thanked the Senator for the kind gesture.