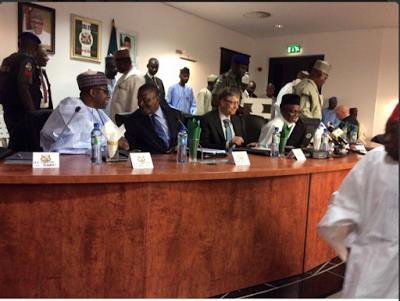 By Longtong Ibrahim
Kaduna (Nigeria) – Bill Gates and Dangote Foundation have signed a Memorandum of Understanding (MOU) with some Nigeria's northern governors on strengthening Routine Immunizations in the north.
The MOU was signed with the government of Kaduna, Borno, Sokoto and Bauchi States on Wednesdayin Kaduna and it aims at eradicating polio and other child killer diseases in the region. Under the agreement, the two foundations will offer both technical and financial assistance in support of the exercise in the respective states.
It also seeks to improve routine immunization and primary health care in the north with a goal of reaching 80 per cent coverage with basic vaccines by 2020
While commending on the various state governments commitments in allocating substantial funding to the health sector, Chairman of Bill and Melinder Foundation, Bill Gates said his foundation was determined to eradicate polio and other related diseases in Nigeria and Africa through states and countries partnership.
Chairman of Dangote foundation, Aliko Dangote in his remarks called on the governors to always pay close attention and supervise healthcare facilities as well as give them the necessary support; while urging the federal government to continue to work closely with the states.
"Leadership and guidance of federal government and the commitment of the governors are critical to success. For me, bringing health care to the community is something I care about deeply so it is very important that communities trust that health services are there for them."
United States Ambassador, James Entwistle, in a remark said, signing of the agreement demonstrates the willingness and commitment of Nigeria's government to tackle the challenges.
He noted that the contribution of Bill and Melinda Gates Foundation in the areas of health and agriculture have yielded concrete results in Nigeria; adding also that, the United States government will provide more than 600 million dollars to address health issues such as child and maternal mortality.
In his remarks, UNICEF Country Representative, Jean Gough, said the MOU would offer the model platform to capitalize on the prospects of evidence-based approaches towards sustainable routine immunization.
Host Governor, Nasir El-Rufai while making his remarks thanked his guest and assured that, all agreements reached in the MOU would be implemented.
He added that, "As State Governors, it is evident from the contributions of my colleagues that our key strategy is to ensure that a reliable supply of vaccines is delivered in the right quantities at the right time, with sustained potency to our health facilities. And if we can do that for vaccines, we can deploy same for every other health commodity our people need.
"It is essential that as State governments we earn the trust of the community by delivering predictable, reliable health services if we want our citizens to come to the health facilities. By getting immunization right, we can ensure that families access other critical treatments against malaria, diarrhea and other common ailments," said El-rufai.
State governors, Minister of state for Health, traditional rulers, diplomats, representatives of development partners and other relevant stakeholders in the health sector witnessed the signing of the agreement.