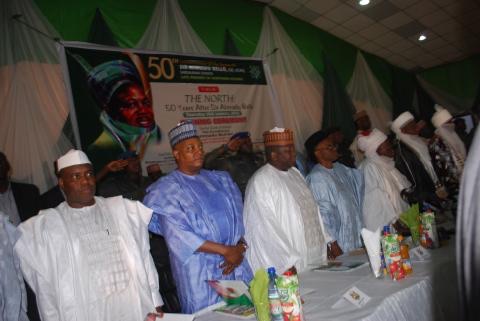 By Mohammad Ibrahim
Emir of Kano, Alhaji Sanusi Lamido Sanusi has warned those criticizing northern leaders; past and present, especially those who murdered the region's 1st Premier Sir Ahmadu Bello Sardauna of sokoto to desist from doing so, as the region leaders and people will defend their integrity and honour.
He also said those who would want to re-write the history through distortion of facts of what actually happened in 1966 coup will not succeed
The Emir and the nineteen Northern Governors made the assertion and warning at the 50th anniversary of the commemoration of the assassination of Sir Ahmadu Bello, Sardauna of Sokoto held at Arewa House, Kaduna, northwest Nigeria.
Sanusi said the history of the 1966 coup is being re-written and even if the North and Northerners has forgiven and forgot what happened, they would not allow the history be distorted.
"Tomorrow marks exactly 50 years to an incident in the history of this country in which a number of leaders were killed. Sir Ahmadu Bello was one, Sir Tafawa Balewa was another, Chief Akintola was another, Chief Okotie Eboh was another, including a number of Generals that hail from this part of the country and from the Western part of the country.
"Now this has happened and the events that followed are known but sad, we have gone over them, we have moved on to become one country. But fifty years later, before our very eyes, this history is being re-written and those who killed are claiming to be the victims.
"It is important that we keep history truthful. Even if we forgive and forget, we should never allow history to be re-written. Because what is happening in Nigeria today, is a new story, a new narrative. Sardauna was not a victim, Tafawa Balewa was not a victim, they were the cause of the problem; we cannot accept this" he said.
He stressed that the North and Northerners would not want to open old wounds as everyone has been hurt, offended, marginalised, loss people, produced good and corrupt leaders, and no one has he monopoly of power, corruption or oppression.
.
He added that like every human, Sardauna and Balewa had their flaws, but were heroes and better than anything that this country has produced.
"I think we owe it to the memory of these gentle men who were murdered, that people do not add insult to injury. And so long as we are alive, we will defend their honour. We are calling for peace, we are calling for unity, we are calling for tolerance, but we are insisting on respect; we would not be disrespected"
Corroborating the Emir, Kaduna State Governor, Nasir Ahmad El-rufai who represented President Muhammadu Buhari and spoke on behalf of Northern Governors said all of them present at the occasion concur fully with the sentiment expressed by the Emir.
"As Northern Governors, we want peace in Nigeria. We want unity in our diversity. We want progress and development in Nigeria, but we will not accept a situation in which our parents, our forefathers are being insulted. We would not accept any revisionist attempt to re-write history and discredit those whose legacies we enjoy" he warned.
In attendance among the nineteen Northern Governors were Governors of Kebbi, Taraba, Sokoto, Borno, Zamfara; Atiku Bagudu, Darius Ishaku, Aminu Waziri Tambuwal, Kashim Shetima and Abdulaziz Yari, respectively.