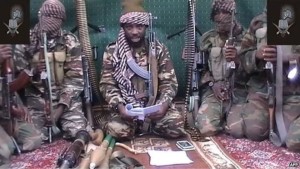 By Mohammad Ibrahim
Kaduna (Nigeria) — A Borno born cleric, Pastor Kallamu Musa Dikwa says some villages in two local goverment Areas of Borno state, northeast nigeria are still under control of Boko Haram.
Pastor Dikwa told journalists in Kaduna that soldiers who recaptured some of the local governments previously under Boko Haram are only found in the local government headquarters, and not in the villages.
He opined that it is difficult for the villagers to go back to their respective homes, because Boko Haram members are still controlling those areas.
Nigeria's president Muhammadu Buhari had announced recently that his administration had "technically deafeted" the insurgents, giving way for all to return home, and to their normal lives.
"The government has weakened the insurgents but they are still found within villages. Some of them are found within nearby forests not only sambisa forest. For instance, in my village Dikwa and some villages in Gomboru Ngala, these people are still there.
"So, the government need to do something about these villages. The soldiers after recovering those local governments from Boko Haram now stay only within the headquarters," he said.
The Pastor also said President Buhari's effort to defeat Boko Haram terrorists will be difficult without exposing their sponsors.
He explained that as long as their sponsors move around freely, defeating the insurgents will be a difficult task.
"Government cannot tell us they don't know those behind Boko Haram. It's only when you fish out their sponsors that you can end their activities in the north-East.
"You must Punish the sponsors as you are dealing with corrupt individuals who loot public funds if you want to succeed in fighting the Boko Haram. Make the sponsors known to public if not the issue will continue," he said.
He urged the military to put more effort because some of the villages in Dikwa, his home town, and some parts of Gomboru Ngala are still under control of the insurgents.