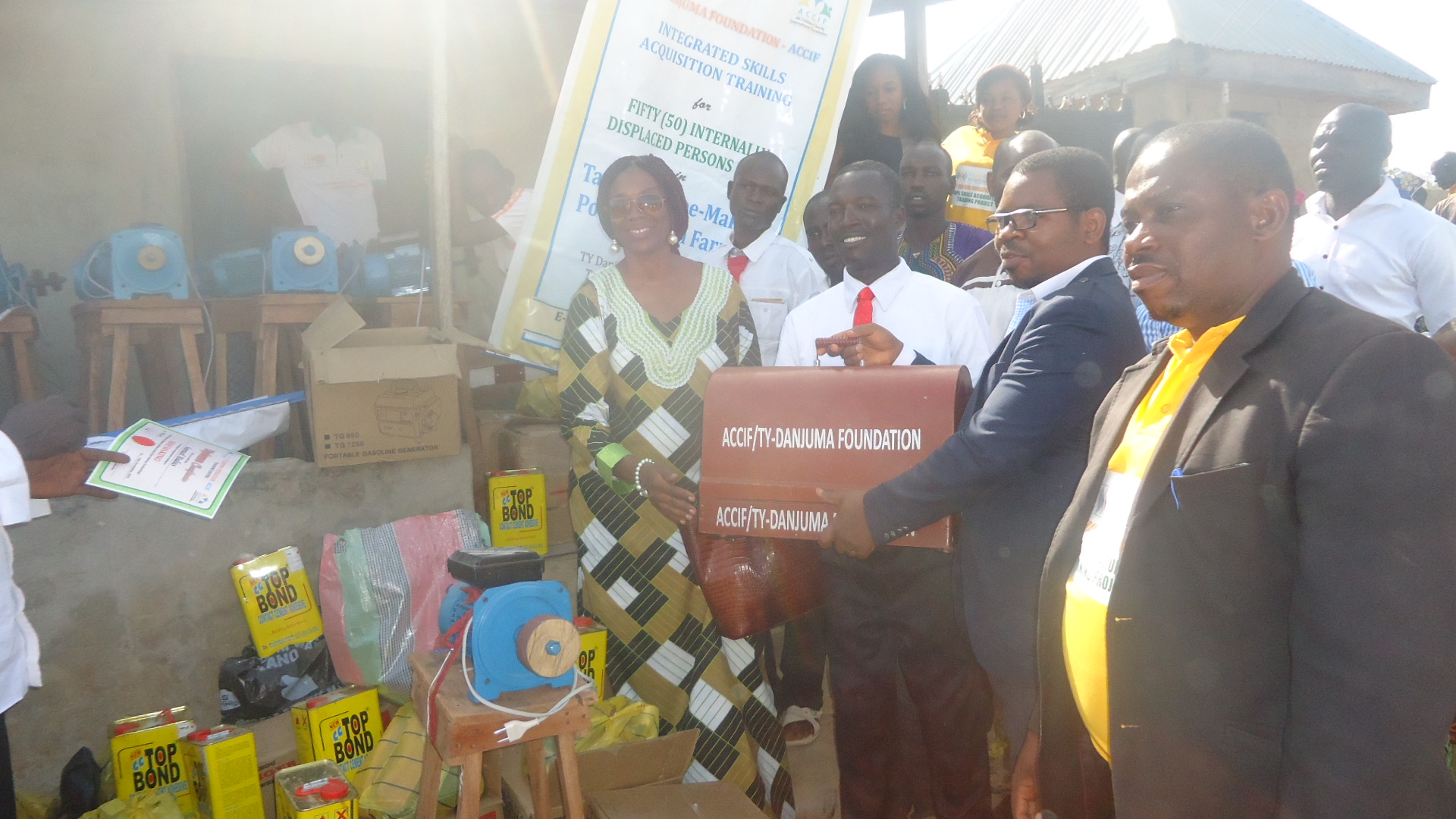 By Longtong Ibrahim
Kaduna (Nigeria) – TY Danjuma Foundation in collaboration with All Children Charity International Foundation (ACCIF) has successfully graduated Fifty Internally Displaced Persons (IDPs) in the three months 'TY Danjuma-ACCIF IDPs Skills Acquisitions Training Project' costing about N8.3 million.
The training was aimed at empowering and strengthening them in order to generate income, take care of their families and improve their quality of lives.
The IDPs who are camping in Pegi, a community in Kuje Area Council of Abuja, Nigeria's capital received intensive training in tailoring, shoe, bag and bead making.
Majority of the IDPs in Pegi are from Chibok, Borno state – North east Nigeria who fled their homes as a result of the Boko Haram insurgency. Pegi is one area that accommodates large percentage of internally displaced persons. It has about 57 IDP households comprising of more than 250 IDPs (59 female, 54 male and over 150 children).
According to the founder of ACCIF, Ranti Bosede Daudu, the Foundation concentrates on Pegi because it is an interior village which is too far for benefactor to come. She said the difficulties and traumas the IDPs were facing was parts of the Foundation's drive to rescue them so as to give them hope; adding that, a baseline method was used to select the beneficiaries who lost their occupation as a result of the insurgency.
She pointed out that, "We have given them all the material and equipment they need to setup individually unlike other project where we do community grouping for intervention. This is because we feel whenever they choose to go back home or be in the future, they may not all be together in a single place, so they can benefit from it individually."
She further called on the public, other partners, and government to patronize them. "We enjoin all stakeholders to network and work in harmony to further better the lives of IDPs, patronize products made by them. We charge us to please buy the products in order to encourage and help increase their bargaining power."
"They can be called upon to make sandals and uniforms for primary school. It can be a big industry for them, all they need is standardization and for others who deal in finishing and accessories to come and further train them on how to get good product."
"ACCIF charges and encourage the beneficiaries to ensure full utilization of the equipments that was donated; they should use them to generate income, train other IDPs and positively impact the society and contribute to the Gross Domestic Product (GDP) of our great country Nigeria," she stressed.
The Chief Executive Officer of TY-Danjuma Foundation, Sunday Udoh while making a remark further tasked the beneficiaries to use the skills acquired by training others.
He added that TY Danjuma Foundation is committed to enhancing the quality of lives of Nigerian in different capacities.
In his remarks, representative of Pegi Community Leader, Jeremiah Sarki commended the organization for organizing such vocational training, stating that, it will go a long way to make them self reliant. He called on other stakeholders to emulate the kind gesture of the Foundations.
Responding on behalf of the beneficiaries, Peter Dumbula thanked the Foundation for empowering them and said, they are indeed lucky to have received such a good gesture from the foundations, stressing that, 'we have lived here and we have gotten a life that has change our situation.' He added that when normalcy returns to Chibok, they will be willing to go back to their homes.
The beneficiaries were trained in business skills. They were also individually given materials and equipments for their start-up businesses among which includes; sewing machines, filing machine, electric irons and generators.