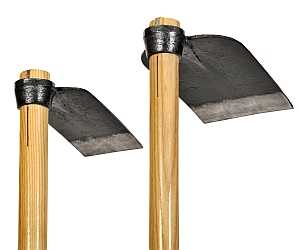 Presidential candidate Yoweri Museveni, who wants to transform Uganda from an agrarian to industrial economy by 2040, has promised 18 million hoes to six million households.
Through a November 20 letter to Prime Minister Rukahana Rugunda, Mr Museveni said these should be in the Budget for Financial Year 2016/2017.
"These will be distributed to six million households, each receiving three hoes," Mr Museveni said.
The hoes are meant to boost food security and incomes for small land owners, the President said. The retail price for a hoe is Shs7, 500. At Shs7, 500 per piece, 18 million hoes would cost Shs135 billion, which is 28 per cent of the Agriculture ministry's budget for this fiscal year.
Mr Museveni's directive comes on the heels of his pledge to allocate Shs1 trillion to the National Agricultural Advisory Services (NAADS) to buy seeds for all farmers – because, he said, there is "huge demand for seeds."
The hoes, like the increment of the NAADS budget, are not mentioned in the NRM Manifesto, whose theme is Taking Uganda to Modernity Through Job Creation and Inclusive Development.
What NRM Manifesto says
The manifesto only talks about the transformation from peasant to modern agriculture by availing machinery for hire at affordable rates for bush clearing, ploughing, harrowing, planting and harvesting.
The provision of hoes would be a departure from the government's pledge in 2006/07 to provide "walking tractors" that have harrowing implements to farmers groups in the parishes to use to increase agricultural production.
Mr Kassiano Wadri, a member of the Parliamentary Committee on Agriculture, told Daily Monitor yesterday that if government is genuinely interested in improving agriculture, it should abide by the Moputu Declaration – and allocate 10 per cent of the National Budget to Agriculture.
"It is the campaign heat forcing him [Mr Museveni] to make such outrageous pledges, talking about hoes when we should be talking of agricultural mechanization. We should commit ourselves to the Maputo Declaration," Mr Wadri said.
This fiscal year, government allocated 2 per cent of the National Budget to agriculture, arguing that its priority are roads, power generation and transmission projects as well as security and defense.
So far, it is only Forum for Democratic Change presidential candidate Kizza Besigye who has promised to increase the Agriculture ministry's allocation to 15 per cent of the National Budget.
Mr Julius Kapwepwe Mishambi, the director programs at the Uganda Debt Network, a development organisation, said Mr Museveni's pledges should be consistent with policy regimes of the NRM, the National Development Plan and the Agricultural Sector Development Plan.
"It is not the hoes of our forefathers that agriculture needs, else we should have modernized it already. We need more money in strategic areas that unlock agriculture to modernization," Mr Mishambi said.
However, Mr Frank Tumwebaze, the Presidency minister and former chairman of the Uganda National Farmers Federation, said this "is not a new promise."
"Different programes of government have been giving our farmers tools, hoes and ox–ploughs as demanded by various communities. The same applies to seeds and other inputs," Mr Tumwebaze said.
"It is just a plan to continue supporting those communities in need, mainly those recovering from the conflict, with minimum tools of production. The model for commercial farmers is different, as articulated in our manifesto and value–addition initiatives under the Plan for modernization of Agriculture."
culled from www.monitor.co.ug