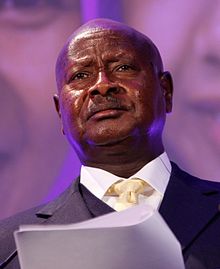 Veteran Ugandan president Yoweri Museveni has said he will be a cattle keeper if he loses elections next year after three decades in power.
"If I lose election I shall leave power," Museveni said Thursday, according to the state-owned New Vision newspaper. "I have got my job at home, I am a cattle keeper," he added, according to the Daily Monitor newspaper.
"I am not power-hungry, but mission-hungry — so I have got a mission of economic transformation of Ugandans." Meanwhile, key presidential challenger Kizza Besigye, leader of the Forum for Democratic Change (FDC), has told supporters he had been arrested 43 times in his long-running bid to win the country's top job.
Besigye, once Museveni's personal doctor, previously said he would not contest elections again after losing in 2001, 2006 and 2011, claiming free and fair polls were impossible. After losing in 2011, Besigye led repeated anti-government protests, at which he was regularly arrested and held for hours before being released while his supporters were also chased, tear-gassed, beaten and arrested.
"Since 2000, when I first contested for the presidency, I have been arrested and taken to jail 43 times and they keep releasing me without any charge," Besigye said at a rally on Wednesday. Opposition leaders have said they will back a joint candidate, expected to be either Besigye or ex-prime minister Amama Mbabazi, although both have begun campaigning  separately for the February 18 polls.
With both being influential former members of the ruling party, critics say they struggle to offer a convincing alternative or to effectively criticise a system they created and from which they benefitted. Museveni, who has led the east African nation since 1986, and the ruling National Resistance Movement (NRM) are widely expected to return to power.
www.vanguardngr.com