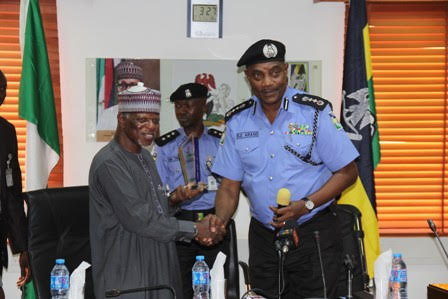 By Longtong Ibrahim
Kaduna (Nigeria) – In an effort to curbing border crimes and advancing the capacity of the Nigerian Custom service, the new Custom boss has sought for a renewed partnership with the Nigerian Police Force in tackling border crimes and information sharing.
The partnership was sought when the Comptroller general of Nigerian Custom Service paid a courtesy call to the Nigeria Police leadership at the Force Headquarters in Abuja.
Statement by the Police Force Spokesperson, Olabisi Kolawole explained that, "The partnership is aimed at synergizing with the Nigerian Customs Service in tackling border crimes and advancing the capacity of Nigerian Customs Service in realizing their core mandate."
The Customs boss, Hameed Ibrahim Ali who was accompanied by other senior officers sought for partnership in the areas of information sharing, tackling border-related crimes, smuggling and also on ways to improve on the revenue capacity drive of Customs.
The Inspector General of Police, Solomon Arase in his remarks promised to improve on the existing level of intelligence sharing, and also, extends training opportunities to personnel of the Nigerian Customs Service to further enhance their capacities.