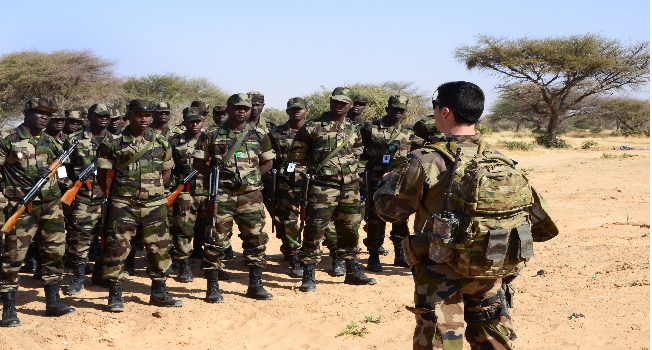 By Longtong Ibrahim
Kaduna (Nigeria) – The Nigerian Army in collaboration with its British counterpart is training 150 Warrant Officers and Senior Non-commissioned officers geared towards meeting-up with the Presidential declaration of ending insurgency in the North East by December, 2015 in the country.
The one week training course in Kaduna is targeted at that cadre of the force because it serves as the link between the officers and soldiers.
During the opening ceremony, the Chief of Army Staff, Lt. General Tukur Buratai said, the training aims at equipping the officers – as there cannot be a professionally responsive Nigerian Army without an effective Warrant and Senior Non-commissioned officers; he also described the participants as the bedrock of the Army.
The Army Chief who was represented by the Commander, Infantry Corps, Major General Sanusi Muazu, said the Army in its quest to attain its constitutional role has been involved in tackling security challenges in the country ranging from insurgency, terrorism, militancy, banditry, and vandalism.
He further stressed that Nigerian Army is committed to meeting up the December deadline to end insurgency.
He said, "The most potent security challenge facing Nigeria in the past five years is the Boko Haram terrorist driven insurgency in the North-East of the country. The Nigerian Army is the lead service in the counter insurgency operations in the North-East with a theatre command comprising of 3 Division, 7 Division and a Nigerian Air Force Air Component. On my assumption as COAS in July 2015, I looked at the operation in the North East and initiated a new directive to achieve the defeat of insurgency and restore normalcy to the North East."
Leader of the British Military Advisory Training Team, Lt.Col Stewart Howells in a remark said Nigeria and British had cordial bilateral ties which necessitated the need for Britain to send a team of military expertise to assist Nigeria in the fight against insurgency.
He further assured the participants of receiving a best training.