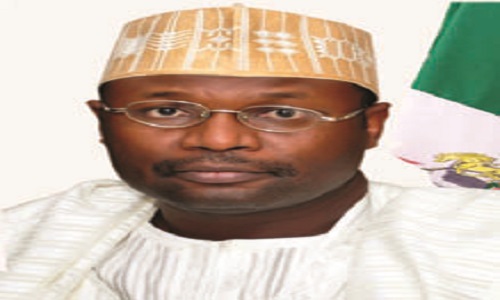 Professor Mahmood Yakubu has been appointed as the new chairman of the Independent National Electoral Commission, (INEC) by President Mohammadu Buhari – to take over from the Acting Chairman of the Commission, Amina Zakari who has been acting for about four months after the expiration of Attahiru Jega's five years tenure.
The appointments came after an emergency meeting of the National Council of States, being the first meeting held under President Buhari, in Abuja, Nigeria's capital, Wednesday.
Apart from Yakubu's appointment the council made additional appointment of other five national commissioners for the electoral body. They include: Amina Bala Zakari – North West, Antonia Taiye Okoosi-Simbile – North Central, Alhaji Baba Shettima Arfo – North East, Mohammed Mustapha Lecky – South South and Soyebi Adedeji Solomon – South West.
Before Yakubu appointment, he was the former Executive Secretary of the Tertiary Education Trust Fund (TETFUND), and also a Professor of History and International studies.
While briefing journalist after the meeting, Sokoto State Governor, Aminu Tambuwal explained that the situation in INEC necessitated the emergency meeting.
He said, the Council received a memo on the nomination of Chairman and five Commissioners for INEC which it conformed to in accordance with the provisions of the Nigerian constitution particularly Sections 154 (1 and 3) and 156 (3) which confers on the President the powers to appoint a chairman and national commissioners of INEC, in consultation with the Council of States.
"The situation in INEC as at today is such that requires for this emergency meeting to approve the nominations by Mr. President, because the law requires that a minimum of four commissioners should form a quorum in INEC, which is not the case as today, because the tenures of 11 of national commissioners of INEC had expired."
The  meeting had in attendance Vice President Yemi Osinbajo, former Heads of State – Yakubu Gowon, Ibrahim Babangida, Abdusalami Abubakar, and Ernest Shonekan; Speaker of the house of Representatives Yakubu Dogara; former Chief Justices of Nigeria – Mohammed Uwais, Alfare Belgore and Idris Kutigi, as well as many Serving governors.