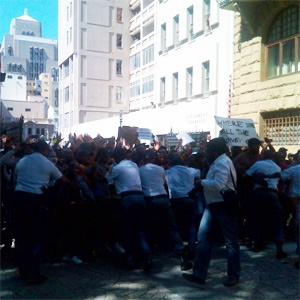 Cape Town – Thousands of protesting students from the University of Cape Town (UCT) and the Cape Peninsula University of Technology (CPUT) descended on Parliament in Cape Town on Wednesday afternoon ahead of Finance Minister Nhlanhla Nene medium term budget policy statement (MTBPS).
The students forced their way though Parliament's gates. Stun grenades were fired as students forced their way into the Parliamentary precinct.
Earlier, the students burned tyres outside the building, as public order policing dressed in riot gear looked on from behind a police line.
ANC MP Loyiso Mpumlwana was seen chatting with some student leaders outside Parliament, who, with their peers, were heard shouting "Down with 6%, down with fees, down".
The chants were in reference to the deal struck by Higher Education Minister Blade Nzimande and university vice chancellors on Tuesday after a marathon meeting in the Mother City, where they agreed fee increases for 2016 would be capped at 6%.
Outside Parliament, students called for unity among themselves, with many climbing on the statue of Louis Botha at the end of Roeland Street, which with Plein Street was closed off to traffic, as legislators entered Parliament for Nene's speech.
Call for Nene to address students
Sibusiso Twala, student representative council president at CPUT, addressed the students outside Parliament. Students want the respective varsity management teams to address them, along with Nene himself.
Students sitting on the Louis Botha statue wrapped police tape around their heads as bandanas, holding a poster stating, "Fokof, fokof, fokof to fees".
Later, Economic Freedom Fighters chief whip Floyd Shivambu addressed media, saying the party supported the call for university education to be free.
He said the party would ask Nene about it during the sitting on Wednesday.
However, students did not take kindly to Shivambu only speaking to media, chasing him away shortly afterwards, shouting "EFF must leave", and "We want Blade".
It was also believed that 10 000 CPUT and University of Western Cape students had gathered at CPUT's Belville campus, north of Cape Town.
Meanwhile, at Stellenbosch University up the N2 highway, students had gathered in the Rooiplein to hear each other's experiences.
One speaker, from the Democratic Alliance Students Organisation (DASO), said: "[The] 6% increase is not low enough. The money must come from the state. Where is Blade Nzimande?"
'I won't get a degree, I'll get an invoice'
A legacy student, whose mother was one of the first coloured students at Stellenbosch University, told the crowd: "This is everybody's problem. I am reliant on NSFAS [National Student Financial Aid Scheme]. At graduation, I won't get a degree. I will get an invoice that says 'You owe me'."
Medical students from the university's Tygerberg campus also later joined the gathering, with one student telling those assembled: "I am paying R45 000. Next year i must pay R73 000. From where?"
Another student said, "This is the bastion of apartheid. The Broederbond must fall."
The protests flared up after students at the University of the Witwatersrand last week protested against a 10.5% fee increase for the 2016 academic year.
The Wits uprising sparked protests on campuses across South Africa, including UCT, CPUT, UWC, Stellenbosch University, Rhodes University in Grahamstown, Nelson Mandela Metropolitan University (NMMU) in Port Elizabeth, the University of Pretoria, the University of Fort Hare, the Tshwane University of Technology, the University of Limpopo and the University of KwaZulu-Natal.
The University of the Free State closed all three of its campuses on Wednesday, with varsity management and the student representative council meeting on Tuesday to discuss next year's fees.
At NMMU, police fired rubber bullets at protesting students throwing stones at the institution on Wednesday, according to police spokesperson Brigadier Marinda Mills.
She said no one was arrested or injured.
Culled from news24.com