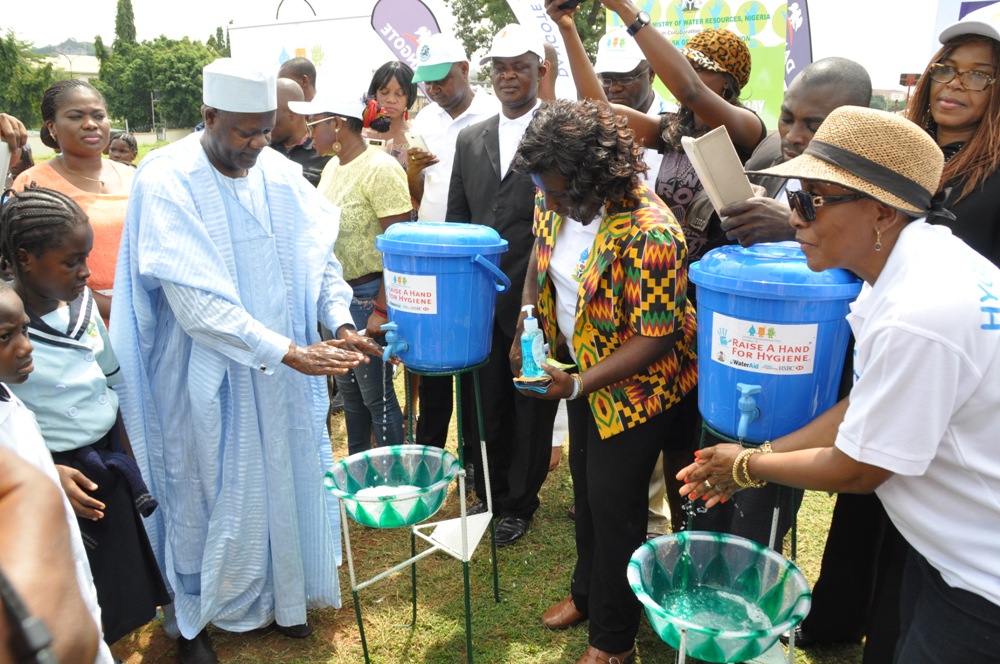 In an effort to prevent transmission of pathogens and outbreak of epidemic diseases, the Nigerian Federal Ministry of Water Resources has urged Nigerians to embrace the habit of hand washing with soap and water on regular bases.
While commemorating the 2015 global hand washing day on Thursday, 15th October at a Community School in Abuja, Nigeria's Capital, Permanent Secretary of the Water Resources Ministry, Musa Istifanus said hand washing enhance hygiene and break the chain of Fecal-oral diseases transmission, which in a long run, reduced morbidity and mortality among adults and children particularly those below the ages of five.
Statement by the Ministry's Director of press, Musa Mato said the Permanent Secretary was represented by its Director, Planning, Research and Statistics, Adamu Wakil.
It stated that, "Today we join the rest of the International Community to commemorate hand washing day which intend to demonstrate the importance of hygiene. Hand washing with soap or ash under running water is life –saving intervention, the single most cost effective health intervention and cornerstone of public health".
He explained that the commemoration was aimed at motivating children to embrace and share proper hand washing practice which would place them as hand washing champions at the heart of national and local initiatives; while also urging them to be ambassador by carrying the message to their families and friends at home.
Water, Sanitation and Hygiene Ambassador (WASH),Ebele Okeke in her remark said Global Hand Washing Day, is a set campaign day aimed at motivating millions of people around the World to wash their hands with soap and water on a regular basis.
She said hand washing also  prevent the spread of infectious diseases such as hepatitis, typhoid fever, polio, cholera, and the deadly Ebola virus that was experienced last year in the Country.
"Hand washing with soap and water at critical times- before eating or preparing food, after a hand shake, when back from work or school, and after using the toilet reduces diarrhea incidents among children under five years of age and adults by almost 50 percent – also it reduces the incidence of acute respiratory infections by around 23 percent"  Okeke explained.