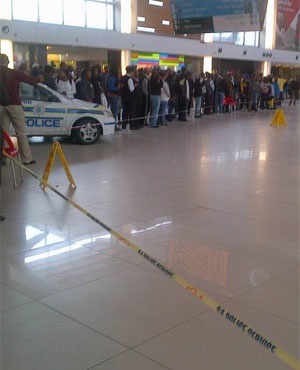 Police in South Africa have commenced investigation on a shooting at Cape Town station in the city's CBD which left the shooter dead.
Police spokesman, Lieutenant Colonel André Traut confirmed the incidence. He said an unknown man allegedly shot himself at platform 24 at about midday. "A death inquest case docket has been registered.
"We have reason to believe that the man who shot and killed himself could have been part of a group of two men who acted suspiciously prior to the incident,"
"However we will not be speculating about the matter until our investigation has reached a more advanced stage." Traut said
Eye witnesses say the man who was "dressed in all black with only his eyes showing" was "shooting in all directions", then turned the gun on himself and shot himself in the mouth.
Metro Rail statement said train services were not affected by the incident.