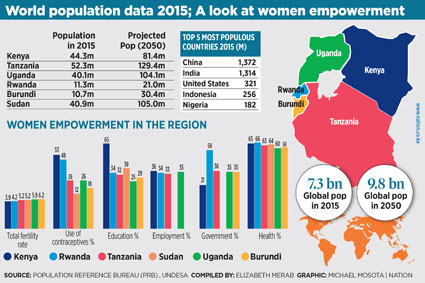 By Elizabeth Merab
The country's population is expected to hit 81.4 million by 2050, a report shows.
The increase in population, currently 44.3 million, is attributed to a high fertility rate.
According to the report, a Kenyan woman gives birth to an average of four children, a number higher than the global average of 2.5.
The world population of 7.3 billion is expected to reach 8.5 billion by 2030, 9.7 billion in 2050 and 11.2 billion in 2100.
According to the UN's Department of Economic and Social Affairs mid 2015 results, about a billion people have been added to the world in 12 years.
The report says more than half of the global population growth up to 2050 will take place in Africa.
"Africa has the highest rate, growing at a 2.55 per cent annually between 2010 and 2015," the report says.
A rapid population increase in Africa is anticipated despite a substantial reduction of fertility levels in the near future.
"Regardless of the uncertainty surrounding fertility trends in Africa, the large number of young people who will reach adulthood and have children ensures that the region will play a central role in shaping the size and distribution of the world's population," the report says.
A similar report published by the Population Reference Bureau shows that there has been a significant progress of women empowerment in Africa, especially in education, governance, employment, fertility and health.
Five years ago, the average number of children per woman in Kenya was five.
The reduction is attributed to the use of contraceptives. The report shows that in every 10 women, five use modern birth control methods.
It also shows that gender parity has been achieved at primary and secondary school levels.
In many parts of the world, secondary school enrolment rates are near parity.
"Being in school helps girls delay early marriage and childbearing, reduces child and maternal deaths, improves child health and boosts women's earning power. On a larger scale, educating women increases a country's competitiveness," the report says.
However, Africa still lags behind other regions in terms of achieving parity in secondary school enrolment.
"Female enrolment rates in Africa are lower than male rates in 32 of 43 countries where data are available. Girls also struggle with cultural norms that keep them at home, violence on the way to school or lack of money to pay fees," the report reads.
In terms of governance, women representation in the National Assembly and Senate is at par with the global average.
The number, which has doubled in the last 20 years, is attributed to the use of quota systems.
"Rwanda holds the top spot in women's share of national parliamentary seats. After the 1994 genocide, which especially targeted males, women took charge of many key government appointments," the report adds.
Although the increase has been celebrated, the UN says women's share of parliamentary seats remains relatively low.
"Experts cite 30 per cent as a minimum threshold for women having a meaningful share of national legislative seats, something that even developed countries have not attained," it adds.
The report says non-agricultural jobs are often seen to be of higher status and more secure.
Curled from Daily Nation