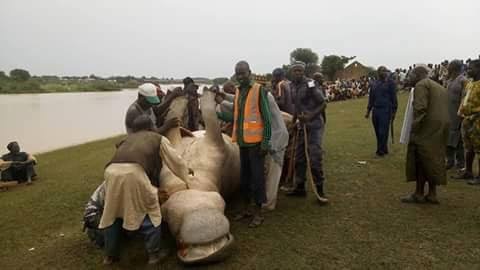 Gombe (Nigeria) – Residents of Dadinkowa town in Gombe state, northeast Nigeria have killed a notorious Hippopotamus that has been killing residents of the area.
Residents say over the past two years, the animal had also been destroying farm produce and fishing equipment of people of the area.
This led community members to write the Governor through the Local Government Council, a letter explaining their situation and requesting permission to kill the animal.
Their request was granted – and community members went into action by mounting surveillance on the notorious hippo.
A resident of the area, Ibrahim Audu said they waited for the animal for about a week, before the animal surfaced "all the people of our village go out daily to hunt for it in turns, hoping that the animal will come out. It took time, but we thank God we were lucky.
"We have posted pictures of our vigilance by the dam on facebook, asking people to join us in prayers. Our prayers have been answered.
"The animal came out in the night around past ten, and the military, alongside local hunters helped us in killing it. You can imagine the kind of jubilation that greeted our villages. Others have gone ahead to share the meat.
"There are other hippopotamus in the river, but we are certain we killed the particular one that has been killing our people and destroying our property." Audu said
Head of Forestry of Yamaltu/Deba Local Government, Ismail Umar confirmed that the beast had been killed.
He said government have since 2013 received report on the threat posed by the hippopotamus.
"We were lucky to trap it outside. We used military men. And with the help of the local hunters, we shot it yesterday night around 10:30 pm when it came out to eat grasses, and today we butchered it into pieces," He said.
Umar added there were about 100 hippopotamus in the dam.
Permanent Secretary of the State Ministry for Environment and Forest Resources, Adamu Pukuma also confirmed the incidence, but lamented that hippopotamuses are among endangered species of animals that are going into extinction.
"We have been protecting them, but the particular one that was killed was notorious.
He said "It has killed people in the surrounding area, and has destroyed crops and fishing equipment.
The people of the area complained, and we sought the approval of the Governor, which he granted in order to protect lives and property.