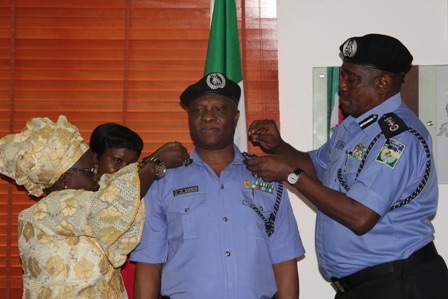 Kaduna (Nigeria) – Nigeria's Inspector-General of Police, Solomon Arase, Wednesday decorated two newly promoted Deputy Inspectors-General of Police, DIG Chintua Amajor-Onu, and DIG Adeniji Jubril Olawale.
A statement by Force Public Relations Officer, Emmanuel Ojukwu says "Obviously satisfied with the professional pedigree of the new DIGs, IGP admonished them to inject their wealth of experience to further improve the Police Management Team."
DIG Chintua Amajor-Onu, holds a degree in Law Enforcement and Criminal Justice, while DIG Adeniji Jubril Olawale holds a degree in Law.
"Both officers have served in various sensitive capacities and have contributed immensely towards Police service delivery." The statement says.