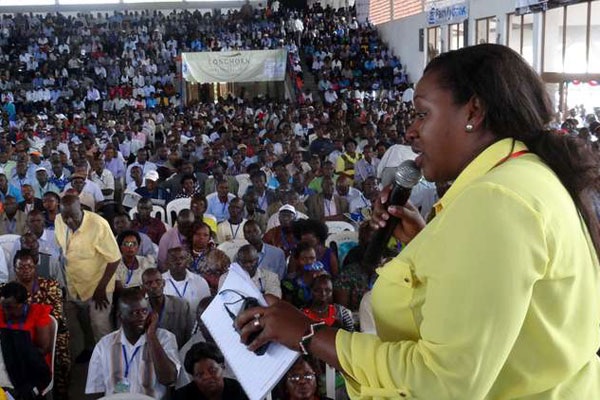 Mombasa (Kenya) – Two rival unions have differed over a strike scheduled for next term to protest the Teachers' Service Commission's appeal against a salary increase.
While the Kenya National Union of Teachers (Knut) has asked its members not to be in school after the August holidays, the Kenya Union of Post Primary Teachers (Kuppet) said it would adopt a wait-and-see approach.
A court recently awarded teachers a salary increase of between 50 and 60 per cent.
Kuppet Secretary-General, Akello Misori said the union would give the government time to implement the pay rise.
"We are sure the government will pay. If it doesn't by September 3, we will make a decision," Mr Misori said in his office yesterday.
In July, the Court of Appeal ordered TSC to pay teachers the negotiated increase. TSC, however, said it would appeal.
TSC Chairperson, Lydia Nzomo said the commission did not have money for the additional salary.
Education Cabinet Secretary Jacob Kaimenyi said the government would not be forced to pay what it did not have.
Knut boss, Wilson Sossion told teachers to operate on a shoestring budget this month in preparation for a major strike in September.
Mr Sossion told teachers not to step in class if the government failed to act on their demands
"We will not accept oppression. This will be the mother of strikes and we are not relenting on that. We will stay at home because the government has refused to show respect for teachers," he said yesterday at Sheikh Zayed Children's Centre when addressing the Kenya Primary School Headteachers' annual conference in Mombasa. He said teachers were expecting a pay increment this month.
"We will never dance to the same tune again. People must learn to respect court rulings. The judges made the decision after carefully analysing our complaints," he said.
Mr Sossion expressed disappointment at the TSC's decision to appeal against the Industrial Court ruling.
He said the huge amounts lost to wastage and corruption could be used to pay teachers.
"The government loses Sh450 billion to corruption. It cannot say it does not have Sh51 billion," he said.
He added that TSC should abide by the ruling and pay teachers "instead of fighting a war it would never win".
Mr Sossion castigated the Jubilee administration for being insensitive to teachers' needs.
"Twenty per cent of government spending must be allocated to the education sector if Kenya is to make progress," he said.
He asked teachers in insecurity-prone areas to leave until peace is restored. "We are not sabotaging education in those regions. It is one way to make the government respond to insecurity," he said.
Meanwhile, the Parliamentary Committee on Education wants the Kenya National Parents Association deregistered.
Committee Chairperson Sabina Chege said there was no need for such an association as there already exists the Parents Teachers Associations.
She said the National Parents' Association was only fleecing headteachers.
She made the remarks during the conference, drawing cheers from the more than 5,000 participants.
The heads told Ms Chege that they did not have money to pay the association. They said its chairman, Mr Musau Ndunda, was using a court order to demand money from them.
"We want the money that is given for Free Primary Education to be used to buy books. An association that does not have ways of sustaining itself should not ask for money from headteachers," she said.
The heads said the association charged every school between Sh3,000 and Sh5,000.
Mr Ndunda dismissed the complaints and denied taking tuition money from headteachers. He said the money the association gets from schools was contributed by parents.
Curled from Daily Nation