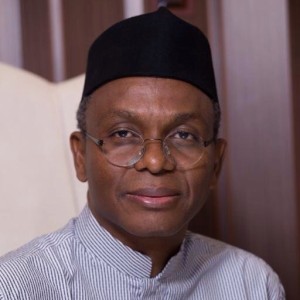 Kaduna (Nigeria) – Governor Nasir El-Rufai of Kaduna state, northwest Nigeria Monday announced abolition of 'joint account', adding that his administration will henceforth remit 10% of Internally Generated Revenue (IGR) to Local Government Councils in the State.
Overtime, Nigerian Governors have under the joint account scheme, hijacked monies meant for local government administration – leaving the local councils with virtually no funds, except salaries.
Special Assistant to the Governor on Media and Publicity, Samuel Aruwan says the Governor announced this while swearing-in chairmen of the Interim Management Committees of the state's 23 local government councils.
Aruwan says the Governor tasked the chairmen against residing outside their local government areas, warning those who could not live in the local government to vacate the office.
The statement quotes Governor El-Rufai saying, "You have no excuse to fail. Perform and bring real development to our state at the local government level. I am using this occasion to fulfil our campaign promise, during the campaigns we said we will not hold local government funds if elected.
"Therefore, I am happy to inform you that the government under our watch has formally abolished joint account in Kaduna state, there will be no more holding local government funds hostage under the pretence of joint account.
"Added to this, I also wish to inform you that the government will do its best to be remitting ten percent of the state's Internally Generated Revenue to the local government areas of our dear state. Like I said, we must deliver, we can't let our people down.
"In addition, you are to swing into action and commence carrying out meaningful projects in all the wards in your council. Already there is a blueprint of proposed development which you will see and work with as a guide to taking development to our communities.
"You must take security serious, partner with traditional rulers and religious leaders and the entire stakeholders. Don't be arrogant to your people, you are assigned to serve them and nothing more than that. We will not hesitate to call you to order if you think you will play with our people and the trust vested in you.
Aruwan's statement says the governor also asked the interim chairmen to submit within two weeks a list of government assets such as schools and hospitals encroached by trespassers.
"We did not appoint you because of your religion, ethnicity or where you come from. You have been appointed to work and bring positive change."
Monday morning, some youths from Chikun Local Government Area of the State had protested the choice of the Interim Chairman of their Council, Hadiza Yahuza, demanding that she be replaced by an indigene of the area.
The youth said subsequent administration in the State have not been appointing their people into government despite having qualified and capable hands.