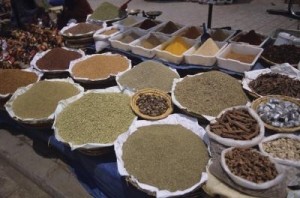 By Anang Bako
Kaduna (Nigeria) – Herbal medicine practitioners in Nigeria say they have improved on their dosage and packaging system to meet international standard. The drugs are now delivered to patronisers in the form of syrup and capsules, as against the usual powdered form.
Chairman, National Association of Progressive Herbal Medicine, Dr Ahmed Ayodele, Who spoke with Africa Prime News in Kaduna, Northwest Nigeria at the ongoing Herbal Trade Fair said their members have now delve into research to fill-up the gap that existed between them and orthodox medicine researchers.
Our Correspondent who visited the Trade Fair ground reports seeing the packaged drugs in both syrup and capsules packs.
He said "We have a new drug now which is in capsulated form called 'excel capsule' and has high patronage due to its positive work."
Ayodele said the Nigerian Association also collaborate and share experiences with herbalists from other African countries on research and efficacy of their drugs.
"Herbal experience is heredity to some people, but with western education, we travel to some Africa countries to see how effective their roots is compared to Nigeria, so that we can also tap from them."
Ayodele who called on Nigerian Government to support the Association's drive toward introducing more drugs into the African market, also called for assistance to sanitise herbal practice in the country.
"If the government will assist us with funds to carry out more research to improve our herbal drugs, I belive our country will also start exporting to other countries."
"We cannot run away from our cultural heritage that is why we want the ministry that deals with cultural heritage to involve promotion of traditional medicine in their agenda.