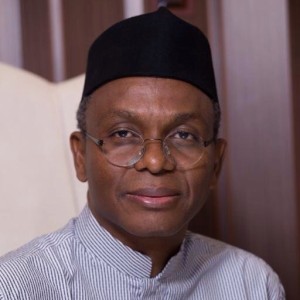 By Mohammad Ibrahim
Kaduna (Nigeria) – Gbagyi Progressive Union( GYPU) in Kaduna State, Northwest Nigeria has alleged marginalisation of its people that campaigned for the state Governor, Nasir El-Rufai – they faulted his recent appointments as sidelining of politicians from their domain.
The group said, El-Rufai's recent appointments of 10 persons into the state cabinet gives them reason for concerned as none of their kinsmen has been appointed so far.
A statement by chairman of the group, Amos Isah and another official, Abashe Dauda, also warned Governor El-Rufai against imposing any non-Gbagyi as sole Administrator of Chikun Local government area of the state.
"Gbagyis have second largest population in the state after the Hausa -Fulani spread in Chikun, Kaduna North, Kaduna South, Igabi, Birnin Gwari, Kajuru and Kargarko Local Government Areas of the state.
"However, in 16 years of democracy, no Gbagyi man was ever considered for minister, SSG or even in any key advisory appointment despite many brilliant minds in our midst. This led to the routing of PDP in Chikun and Birnin Gwari LGs and other parts of the state with sizable number of Gbagyis. Thinking that we are not going to be disappointed.
"But your 10 appointments which has no Gbagyi input or consideration gives us reasons for concern. This is because 50 percent of your recent appointment are for people outside the state.
"This is worrisome, particularly as you reduced the number of ministries and cabinet members in your administration," the statement says.
The group said the over 700,000 strong Gbagyis will be sidelined, marginalised and silenced if this government is formed without the face of Gbagyis as commissioners, Special Advisers and Assistants.
"Our prayers is for the Present administration to at least maintain the previous formula adopted in local government for elective and appointing positions, if it cannot be improved upon.
"We should also be considered for federal appointments, as we have not enjoyed such since the inception of democracy in the state. The formation of the state cabinet without Gbagyi being represented cannot be said to have been completed," says the statement.