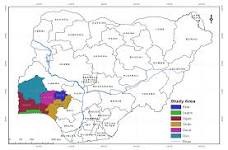 FOUR South West states of Lagos, Ogun, Oyo and Osun have declared today, June 12 as a work free day as part of the 22nd year commemoration of the annulled June 12, 1993 presidential election presumed won by late Chief MKO Abiola.

In a statement signed by Habib Aruna, the Chief Press Secretary to governor Akinwunmi Ambode, the governor said the date marked a watershed in the annals of transparent, free and fair elections in the country.

He described June 12, 1993 as the day Nigerians voted in one voice across ethnic, racial and religious lines, saying it represented a day when Nigerians said no to voting along ethnic lines.

The governor said regrettably, 22 years after the annulment, the Nigerian nation is still grappling with some of the vices which the June 12, 1993 elections sought to confine to the dustbin of history through undue clinging to ethnic cleavages by some political gladiators.

He urged residents to spend the day in sober reflection and in remembrance of the martyrs of the June 12 elections struggle in prayers for laying the foundation of the democracy which the nation is now enjoying.

Similarly Oyo State Government has declared today public holiday in the state.

The declaration was contained in a statement issued by the Head of Service, Mr Soji Eniade.

According to him, the holiday is to commemorate the annulled Presidential election of June 12, 1993.

The statement also urged the people of the state to remain steadfast in their prayers for the sustainability of democracy in the state and the country at large.

Also, Ogun State government declared the day work-free in a statement by the Secretary to the State Government, Taiwo Adeoluwa saying the declaration was done to honour the late politician who, according to him, had fought for the democracy currently being enjoyed by the people in the country.

The statement read in part" the annual holiday is in honour of the late legendary son of the State, Chief Moshood Kashimawo Olawale Abiola, the acclaimed winner of the annulled June 12, 1993 Presidential Election who fought for the democracy currently being enjoyed across the country.

"Government enjoins residents to spend the day to celebrate the 22nd anniversary of the annulled election peacefully, pray for the continued repose of the martyr of democracy, Chief Abiola and general political and socio-economic growth of our country".

In its own declaration of the day work-free, a statement by the Director, Bureau of Communication and Strategy, Office of the Governor, Mr. Semiu Okanlawon, said government declared the holiday to mark the day the whole country united to vote a candidate of their choice without religious or ethnic considerations.

Governor Rauf Aregbesola, said June 12 is significant and central to the development of democracy that the nation is now enjoying.

The statement said "Governor Aregbesola has approved Friday June 12 as public holiday to enable our people observe the day that Nigerians closed all ranks.

"Nigerians should reflect on the significance of the June 12, the sacrifice made by Abiola for all of us to consolidate the current democratic experiment."
Curled from vanguardngr.com